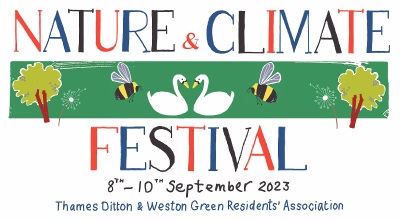 Nature & Climate Festival 2023

Thanks to our festival sponsors



Hello there! Thanks for visiting the Nature & Climate Festival 2023 page.
The Thames Ditton & Weston Green Residents' Association's Nature & Climate Festival is returning Friday 8th - Sunday 10th September 2023!
Now in its second year, the festival will be a celebration of our natural world and a platform to raise awareness of issues around climate change and sustainability. It's a unique chance for our whole community to come together for an unmissable three days of fun, interactive and educational activities for all ages.

Full Programme of Events

Please note: Events are FREE on a first-come - first-served basis, unless otherwise stated:
Some events are ticketed via our programme listings - some require payment and some are free (ensuring availability). We're pleased to offer these tickets online, and once again have partnered with the secure online ticketing services of Ticketebo. Look for their logo in the programme listings. Click here to see a list of all the ticketed events.


Enquiries: Gill Coates: gcoates@residents-association.com 020 8873 3040


As before our Festival has four themes:


WHAT'S ON - FRIDAY 8th SEPTEMBER

10.30 am - 1 pm LIVED & LOVED REPAIRS - Workshop hosted by Amy Brock Morgan Venue: Thames Ditton Centre for the Community. Limited to 20 places.
Finisterre is one of the coolest brands on earth, in our opinion. Based in St Agnes, Cornwall, everything they do is governed by sustainability. Longevity of clothing and repairing is central to their ethos and we are delighted to welcome Amy Brock Morgan, Head of Repairs, to Thames Ditton. Learn the art of repair from one of the best and most enthusiastic in the business. This event is listed as Free in the printed programme, but we have had to introduce a £10 charge to cover costs. We still think this an amazing opportunity to learn from Amy, and it includes tea/coffee. Click here to purchase a ticket.


12.00 noon GO TOXIC FREE WITH ANNA TURNS - Talk / book signing: 1hr Venue: Thames Ditton Centre for the Community
Devon-based author and environmental journalist Anna Turns has written a brilliant book packed with research and solutions to our toxicity problem in which she delves into the toxic burden of devastating chemical pollution. Anna will alert us to the invisible world of chemical pollutants in the soil, the air, our water and our own bodies and explain why this is a growing concern. Go Toxic Free reveals the harmful chemicals in our home, with helpful swaps and tips. She will finish up with Greenwash 101 - top tips for avoiding pointless claims or marketing lingo on labels, and share her guide to the best ingredients and products to use. Be enlightened and ready to detoxify your home!

2.00 pm - 4.30 pm LIVED AND LOVED REPAIRS A second chance for a group to enjoy Amy Brock Morgan's repair workshop. 20 places.
See above for details. Click here to purchase a ticket.


2.30 pm CITIZEN ZOO: REWILDING OUR FUTURE - Talk: 1hr Venue: Thames Ditton Centre for the Community
Citizen Zoo are pioneers in community-led rewilding projects, dedicated to reintroducing species, restoring ecosystems and rewilding people through nature engagement. Having successfully launched the Get InVOLEd water vole reintroduction project on the local Hogsmill river, they also run A Hop of Hope, returning the large marsh grasshopper to East Anglia, and are founders of the London Beaver Working Group which will see beavers return to London for the first time in hundreds of years. Come and hear about their work and find out how you can get involved.

7.30 pm - THE BIG GREEN COMEDY NIGHT! Venue: Vera Fletcher Hall Doors open 7.30pm
Sponsored by HJC Estate Agents
Comedian Ted Hill hot-foots it from the Edinburgh Festival to host an evening of 'green' comedy, including his own show, 'Ted Hill Tries and Fails To Fix Climate Change.' Expect a lot of laughs and some surprises. Thames Ditton Gin will be on hand in the bar crafting some tasty cocktails. This event is not suitable for under 16s. £16 a head. Click here to purchase tickets.

WHAT'S ON - SATURDAY 9th SEPTEMBER


ON ALBANY REACH OF THE THAMES....



10.30 am - PLANET PATROL TESTS THE THAMES - 1hr
Environmental campaigner and Planet Patrol founder, Lizzie Carr MBE will be previewing Planet Patrol's new app release ahead of the nationwide launch of their water quality testing programme. This is an opportunity to get an exclusive first look at what the programme involves, as the first people to trial it testing the water quality of the Thames (all equipment and kits provided). Local licensed paddle boarders are welcome to join us on the water, at their own risk.
IN THE VERA FLETCHER HALL….



11 am - THE LIFE CYCLE with KATE RAWLES - 8000 MILES IN THE ANDES BY BAMBOO BIKE Talk and book signing: 1hr
Fresh from her latest eco adventure, we are delighted to welcome pedal pusher extraordinaire, Kate Rawles. Her new book tackles the planet's disappearing biodiversity as she cycles the length of the Andes on a bamboo bicycle she built herself. See the famous bike and learn how Kate uses eco adventures and personal challenges to bring attention to the nature and climate crisis.

12.30 pm - WASTELAND: THE DIRTY TRUTH ABOUT WHAT WE THROW AWAY with OLI FRANKLIN Talk and book signing: 1hr
By day Oli Franklin is features editor of GQ Magazine. But in his spare time Oli is the 'waste detective', searching out the truth about what really happens to the stuff we throw away. His new book, Wasteland, is a mind-blowing odyssey of the rubbish, the materials and the resources we call waste, how it pollutes and how wrong we are if we think we know what happens to it. Oli majors on solutions and is passionate about how we can turn this around. Don't miss your chance to get to grips with this vital issue from the author of one of the hottest environmental books of the year.

1.30 pm - PLANET PATROL TESTS THE THAMES with LIZZIE CARR MBE Talk: 1hr
Lizzie Carr MBE is an environmental activist and keen stand-up paddle-boarder who has previously navigated 400 miles of UK waterways on her SUP, collecting plastic and data on water quality. Motivated to set up her own environmental group, Planet Patrol, Lizzie is passionate about confronting our water quality crisis and she will be in conversation with Lucy Siegle about her activism, how to become an 'enviro' leader and to test the waters of the Thames on our doorstep.


2.30 pm - TREASURE YOUR TECH TRASH with Dr DAVID GREENFIELD, UNIVERSITY OF BRIGHTON Talk: 1hr
Back by popular demand, Dr David Greenfield returns with his Tech-Takeback (in the Thames Ditton Centre, see below.) On stage in the VHF he will talk to us about his specialist subject: the circular economy. Where others see junk, he sees opportunity. Learn how the rare earth and precious metals in old tech can power the circular economy. David is a global authority on tech reuse and recycling and he has created a blueprint for re-engineering and repurposing the growing piles of tech waste in our lives. You'll never look at your old tech the same way again.

4.00 pm - MY PLANET, MY FUTURE: INSPIRATIONAL PANEL Q&A FORUM FOR YOUNG PEOPLE: 1 hr Sponsored by Bags of Ethics.
A Festival First: in this audience participation Q&A forum we hand the platform to young people, to quiz a specially invited panel of guests from a range of Earth-friendly disciplines, all ready to answer your questions on climate change and sustainability, from renewable energy, jobs and education to what we do to change. Over 35s welcome too, but be prepared to listen and learn! Panellists include: Ariya Agarwal (Thames Ditton student and poet); Fi Watters (Supercritical Carbon Removal); James Robottom (Renewables UK); Lizzie Carr (Planet Patrol); Ella Daish (Louis Vuitton sustainability); Dominique Palmer (Climate Live) and Ed Jones (Esher College).

7.00 pm - WE ARE THE VOICE - CHILDREN'S ENVIRONMENTAL CHOIR Doors open 6.30pm
The most talked-about event from our 2022 Festival, the fabulous children's choir, We Are The Voice, are returning to the Vera Fletcher Hall to perform their moving and inspirational show, I Am the Earth. The choir says: 'We sing for the climate, oceans and trees, and for the species with whom we share our marvellous world. And we sing for the children's futures.' Entry for this unmissable concert is free and expected to be a 'sell-out'. Click here to book a ticket.

SATURDAY IN THAMES DITTON CENTRE FOR THE COMMUNITY - OUR 'ACTIVISTS HUB'.…

All day from 11 am:



ECO FAIR (in the car park) - Come and browse a variety of stalls selling sustainably sourced and ethical goods, hand-made and local produce, organic and locally made street-food, and refill your toiletries and cleaning product containers at River+Park sustainable life store.



SMOOTHIE BIKE (supported by the Thames Ditton CoOp) - Collect your ingredients (for a small charge), then put them in the blender and use your pedal power to create a healthy smoothie!



TECH-TAKEBACK - Festival favourite Dr David Greenfield (Brighton Uni) returns with his popular Tech-Takeback service. Vice President of the Chartered Institute of Waste Management, David sees our waste as a resource, which is great for us as he is prepared to take ours away and repurpose it! A brilliant way to save your old tech from landfill (NB tech only, please, not junk!).



GREEN CAFE - Enjoy freshly prepared, ethically sourced produce from our own volunteer cafe.

10.00 am - GARDENING IN OUR CHANGING CLIMATE WITH SQUIRES GARDEN CENTRE Talk by Squires Garden Centre experts: 1hr
Our favourite local garden centre, Squires, is once again partnering with the Festival by giving a talk on how we can change our gardening habits to cope with climate change. We are making a donation to the Princess Alice Hospice, Squires' charity of the year, as a thank you for this talk.

11.00 am - CREATE A CREATURE with the DAVID SHEPHERD FOUNDATION Children's craft activity: 1.5 hrs
The late wildlife artist David Shepherd CBE was an outspoken conservationist, particularly famous for his campaign 'The Ivory is Theirs' which highlighted the cruel trade in elephant tusks. The wildlife foundation that bears his name still funds key conservation projects in Africa and Asia. We are delighted to welcome their team to Thames Ditton, bringing their fun children's workshop which helps them learn about wildlife conservation. Free but limited to 20 places. Click here to reserve a place.


11.00 am - SUSTAINABLE ELMBRIDGE Talk: 1hr
Elmbridge Borough Council declared a climate emergency in 2019 and is on course for Net Zero by 2030. But the Council is only directly responsible for 1% of the borough's carbon emissions. The rest of us are responsible for the other 99%. This is a chance to hear from the Council's Joanne Taylor about how EBC is addressing climate change and what residents can do to help.

12.00 noon - REWILDING ARCADIA with THAMES LANDSCAPE STRATEGY Talk: 1hr
TLS's Rewilding Arcadia project aims to deliver nature-based flood risk projects to restore lost floodplain and reconnect water, people, heritage and wildlife with the natural cycles of the River Thames. In this enchanting and fascinating talk, learn about this new way of managing the river that takes its inspiration from the natural way of things.

1.00 pm - FRIENDS OF THE EARTH - 'UNITED FOR WARM HOMES' Talk, demo and Q&A: 1hr
Campaigning stalwarts Friends of the Earth are calling on the government to invest in an energy system powered by cheap, green renewables; for a new emergency programme of home insulation and for urgent support for people dealing with sky-high energy bills. Come along and meet the team, learn about their campaign and discover how to keep your home warm.

2.00 - 5.00 pm - WILDLIFE AID FOUNDATION / iDOT Talk and family craft activity: Up to to 3 hours
The Wildlife Aid Foundation in Leatherhead has been rescuing and caring for our native wild animals for forty years. They are currently fundraising to build a visitors centre and wildlife corridor on 20 acres in Surrey to create a permanent wildlife sanctuary and education space. In this family-centred afternoon activity they will talk about their work and demonstrate a hands-on wildlife project we can do at home.
SATURDAY IN DITTONS LIBRARY….

All day from 11.00 am:

Take the Jump
Take the Jump have taken the hard work out of deciding how to live more sustainably by researching the six easiest things we can all need to do to make a big difference to our carbon emissions. You can 'Take the Jump' and sign up to the pledges in the Library. If you want to be part of a Thames Ditton 'Take the Jump WhatsApp group going forwards, you can join here.


RECYCLE YOUR SPECTACLES
Yes, you know you've got them lurking in a drawer! This is your chance to recycle them rather than bin them!

10.30 am - RHYMETIME Children's activity: 20 mins (Updated timing)
The library's regular children's Rhymetime delves into our themes of rivers, oceans and wildlife to celebrate Nature & Climate Change Festival weekend.

12.00 noon - CHILDREN'S NATURE-INSPIRED CREATIVE WRITING 1hr workshop, limited to 15 places. Please sign up in the Library or email: dittons.library@surreycc.gov.uk putting Creative Writing as the subject .
A special session by Katie Randerson encouraging children (under 16) to write about the nature around us.

2.00 pm - NATURAL FLOW CREATIVE WRITING with KATIE RANDERSON Workshop, 2 hours, limited to 15 places. Sign up at in advance at the Library or email: dittons.library@surreycc.gov.uk putting Creative Writing as the subject.
Local writer and festival co-founder Katie Randerson takes her inspiration from nature in this introduction to writing for well-being. Back by popular demand.
WHAT'S ON - SUNDAY 10th SEPTEMBER

IN THE THAMES DITTON CENTRE FOR THE COMMUNITY - OUR 'ACTIVISTS HUB'….



10.30 am - SUNDAY PAPERS LIVE - THE GREEN EDITION
Join us for a (fair trade) coffee and stimulating discussion with our hosts and special guests. We'll be combing through the papers for all the hottest eco scoops & sharing stories and tips on how to live the good life.

From 11.00 am onwards:

SMOOTHIE BIKE (supported by the Thames Ditton CoOp) - Collect your ingredients (for a small charge), then put them in the blender and use your pedal power to create a healthy smoothie.



GREEN CAFE - Enjoy freshly prepared, ethically sourced produce from our own volunteer cafe.



MILDA'S 'ECOCENTRIC US' SHOP - We loved Milda's pop-up shop last year, a great mix of refills and eco products. Bring your empty toiletries bottles (shampoo, shower gel etc) and household products (washing up liquid, cleaning products etc) and let Milda re-fill them from her pump dispensers while you browse her lovely range of sustainable products (bamboo toothbrush, anyone?).



ELECTRIC VEHICLES DROP-IN Q&A - Estelle Miller from EV Experts is as knowledgeable about electric cars as it is possible to be. Hybrid or fully electric? Which brands are leading the way? How are the cars charged? Ask Estelle and she will have the answers. (In the car park, rain or shine).

11.00 am - CREATE A CREATURE with the DAVID SHEPHERD FOUNDATION Children's craft activity: 1.5 hrs. See Saturday entry for details
Free but limited to 20 places. Click here to reserve a place.


2.00pm - LOANHOOD FASHION SWAP & FASHIONISTAS FOR THE PLANET


Clothing swap / up cycling styling: 3 hrs of talks / demos / swapping / styling
LOANHOOD is a circular fashion and sustainable lifestyle brand creating fun events that inspire people to re-think the way we make, sell and buy fashion. Pioneers in fashion rental, today they are bringing their famous Fashion Swap to the festival. To take part, bring up to five of your pre-loved items along to be valued by our expert team and receive vouchers based on their value. Then 'spend' them on your next favourite piece from the rails of clothes and accessories. Note: We will accept all ages, men's, women's and children's clothes, but they must be in great condition. You have to bring something in order to buy. No browsers. And please note we are not accepting unwanted items for donation.



Plus: Two of our favourite sustainable fashion experts - Natascha and Babette - present FASHIONISTAS FOR THE PLANET
Professor Natascha Radclyffe-Thomas from the London School of Fashion, and her daughter Babette, will cast their eyes over your new swaps (or any other items you've brought in needing an update) and advise on restyling. They will share their fashion treasures, from a 1940s tailored coat made under the Utility scheme, to contemporary pieces like a Christopher Rayburn skirt made out of an upcycled parachute. This duo are a walking encyclopaedia of our fashion heritage and mending as activism.

2.30pm - WASHED UP CARD WORKSHOP - 45-min. workshop for keen eco crafters (over 10 years) 18 places available. Tickets £10.
Washed Up Cards collect the waste plastic from our rivers, oceans and beaches and re-use it to make beautiful greetings cards. Join this brilliant workshop with Flora and have a go! Click here to purchase a ticket.


2.30pm onwards - FESTIVAL WIND-DOWN, INCLUDING PRESENTATION OF PHOTOGRAPHY COMPETITION AWARDS AND JAZZ
If fashion, crafting and creative writing aren't your thing, there's still time to enjoy the last bit of the weekend by joining us in the TDCC foyer for a chat about your weekend experiences; meet some like-minded festival devotees, speakers and sponsors; enjoy a final cuppa in our cafe and watch the presentation of the prizes for our Photography Competition (sponsored by Killik & Co and judged by UN Environmental Ambassador Ellie Goulding and photographer Jen McCord). Includes the People's Choice Award. Jen McCord will be here to explain their choices and local jazz singer Molly will entertain us.
SUNDAY IN DITTONS LIBRARY.…
From 11.00am - RECYCLE YOUR SPECTACLES - Yes, you know you've got them lurking in a drawer! This is your chance to recycle them rather than bin them!

11.00am - NATURE-INSPIRED STORYTIME FOR ADULTS Rreading: 45 mins
Start the day with a restful mindfulness session, quietly listening to some of the best nature writing ever written. Do you have a particular favourite? Why not bring it along to share with the group.
12.00 noon - THE TAP DANCING PIGEON with SERENA HASSAN Reading/craft/book signing for children: 1hr
Author Serena Hassan blew us away last year with her enthusiasm for our festival and her fun story for kids. She is back in the library from 12.00 today. Don't miss it.

2,00pm - NATURAL FLOW CREATIVE WRITING WORKSHOP with KATIE RANDERSON Workshop: 2 hrs
Free but limited to 15 places. Sign up in the Library or email: dittons.library@surreycc.gov.uk putting Creative Writing as the subject. See Saturday's entry for full details.


SPECIAL SUNDAY EVENT

St Pauls' Primary School in Hampton Court Way was awarded the Eco-Schools Green Flag accreditation last year in recognition of their eco activism. Join the children, their teachers and families at this special open afternoon, from 12.00 noon to 3.00 pm to see what they are doing to make a difference. Includes a tree planting by the Mayor of Elmbridge, to mark the school's 60th anniversary at 12.15pm.
PLUS! All WEEKEND:

+ Decorate your front window for the Festival weekend and win a prize! Send a photo to @AboutTD to enter.
+ Visit our Nature & Climate Photography Exhibition (sponsored by Killik & Co, judged by Ellie Goulding, UN Global Environment Ambassador and photographer Jen McCord) at the Thames Ditton Community Centre.
+ Buy raffle tickets for our Grand Raffle in aid of festival running costs.
+ Visit Denny's Book Shop to buy the books written by our inspirational speakers.
+ Check out the Earth Books display at Dittons Library.
* * * * *