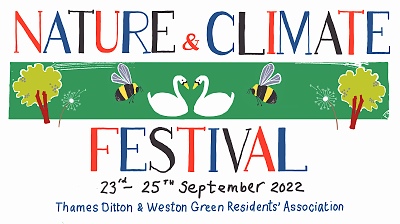 Nature & Climate Festival Programme

Thanks to our main festival sponsors

Welcome to the section where you can find all our exciting Festival events.
Keep checking the website all through the Festival for last-minute additions and changes to the programme.
Follow us on Twitter and Instagram @TDClimateNatureFest, and look out for the free printed programmes appearing in local venues and shops from 12 September.
Please note, events are FREE on a first-come - first-served basis, unless otherwise stated:
Four events are ticketed via our programme listings - two require payment and two are free (ensuring availability). We're pleased to offer these tickets online, and have partnered with the secure online ticketing services of Ticketebo. Look for their logo in the programme listings.

Two further events are ticketed, but these are booked directly with their organisers - as indicated in the programme.

Enquiries: Gill Coates - gcoates@residents-association.com
Caroline James - carolinejames1@gmail.com

Nature & Climate Photographic Competition:
Entry is still open for our Nature & Climate Photographic Competition until 16th September. If you have photos of our local wildlife and scenery, or something for our International Wildlife category, we would love to see them. Competition rules and How to Enter can be found here. The competition will be judged by Ellie Goulding, UN Global Environment Ambassador.


Our Festival has four themes:

| | | | |
| --- | --- | --- | --- |
| Rivers and Oceans | Rewilding | The Circular Economy | Living Sustainably |

Discover our events by the theme that interests you. Click on an event title below to see the details in the full Festival Programme.

Events Grouped by Theme: Coloured according to day: Friday Saturday Sunday Saturday+Sunday

Plus Special Attractions:
Main Venues:
Thames Ditton Community Centre (Festival Hub), Mercer Close, KT7 0BS
Dittons Library, Mercer Close, Thames Ditton, KT7 0BS
Vera Fletcher Hall, 4 Embercourt Road, Thames Ditton, KT7 0LQ
FESTIVAL PROGRAMME

Recycling Workshop - Mixed Media Pots, 10am, Craft My Day, 29 High Street, Thames Ditton, KT7 0SD.
Craft my Day is running two craft sessions (second one on Saturday) in their Thames Ditton store to show us how to creatively upcycle used items. Look out for their other sessions on Saturday and Sunday too, including making a highland cow sculpture using old plastic bottles - yes really! Note: These are Craft My Day activities run in conjunction with the festival, and there is a fee for each workshop. Click here to book direct with them (Friday & Saturday).



Gardening for Wildlife, 4.30 - 5.30pm Talk organised by Squires Garden Centre
Venue: Cafe at Squires Garden Centre, Woodstock Lane, Long Ditton, KT6 5HN.
Cost: £5 (in aid of Voices for Hope), includes refreshments. Click here to book on Squires' website.



The Big Green Quiz, 7.00pm, George & Dragon, High Street, Thames Ditton
The Festival launches properly with a bang! Local environmental writer and quiz obsessive, Lucy Siegle, will be our quiz master with a host of fun questions designed to test your knowledge of the biosphere and green living today. Will your team be crowned The Ultimate Friends of the Earth? (Yes, there will be a trophy!)
Cost: £20 per table (team of 4). Click here to buy your tickets.


Back to Themes

Saturday 24 September
It's Nature & Climate Weekend!



Water Quality Workshop with Hugo Tagholm, CEO Surfers Against Sewage, 11am, Ye Olde Swan Pub, Summer Road, Thames Ditton, KT7 0QQ. Children must be accompanied by an adult.
Hugo Tagholm is an award-winning campaigner, surfer and TEDx speaker who leads the national marine conservation and campaigning charity Surfers Against Sewage. Hugo will use his considerable experience to look at our river and water quality and discuss plans for how to improve and protect it.



Farmers' Market Eco-Activities: Family fun - 9am-1pm, Mercer Close car park, Thames Ditton. Free.
Explore sustainable science at the Community Action Table, follow the climate-friendly clues in the kids Treasure Hunt, learn about the anti-plastic Thames Ditton Boomerang Bags project, and check our handmade upcycled gifts made by the TDBB sewing bees. (Organised by the Thames Ditton Foundation.)



Recycling Workshop - Mixed Media Pots, 10am, Craft My Day, 29 High Street, Thames Ditton, KT7 0SD.
Craft My Day is running two craft sessions (first one on Friday) in their Thames Ditton Store to show us how to creatively upcycle used items. Go to the Friday listing for further details, including how to book with Craft My Day.



Build a Bird Box - Two demonstrations - 10.00am & 11.30am, Thames Ditton Community Centre (limited numbers)
A family activity run by our local group of Men in Sheds. Watch how to make a bird box with the option to buy a kit at the end.



Making Plastic Count with Daniel Webb - Talk and Q&A, 11am - 12pm, Vera Fletcher Hall
Hear from campaigner Daniel Webb who went from being annoyed about plastic waste on the beach in his hometown of Margate to starting a campaign that would influence government. Find out how Daniel ended up with 22 bags of his own plastic waste in his spare room, discover the shocking facts of the extent of our addiction to plastic and learn what Daniel thinks we should do about it.



An Accidental Beekeeper - a journey with the bees into natural skincare - Talk, 12noon-1pm, Thames Ditton Community Centre
Alison Derrick is a local beekeeper and creative talent behind Bee Inspired, a range of natural skincare and household products. She will take us on her journey that led to her local sustainable business and what she has learned about bees along the way.
Back to Themes


Create Your Own Solar Panel! - Workshop, 11am - 3pm, Thames Ditton Community Centre
In this unique workshop you can learn how solar panels are made and make your own solar panel capable of charging phones and laptops.
Led by Agamemnon Otero MBE, the CEO of Energy Garden and co-founder of Community Energy England.
Open to adults and children over 10 (under 16s must be accompanied by an adult).
Cost: £40 adult, £20 under 16 (includes materials). 30 places available only. Click here to buy your tickets.


Nature Writing Workshop for Children - For the under 12s, 11.00 - 11.45am, Dittons Library. Free
Our writer-in-residence, Katie Randerson, will be on hand in a creative writing workshop for kids, inspired by nature. Free, but places are limited - please sign up in Dittons Library from 12 September.



Investing Your Money for Good - Seminar, 11.00am and repeated at 1.30 pm, Thames Ditton Community Centre
Our Pledge Tree sponsors, financial advisers, Killik & Co, will run two interactive seminars on how to invest your money sustainably. Free financial advice from the experts.



How to Change Things - Talk, Q&A, book signing, 1 - 2 pm, Vera Fletcher Hall
Come and meet The Green Grocer and The Sustainable Surfer! Richard Walker, OBE, is MD of supermarket chain Iceland, a BBC Question Time stalwart and an uncompromising defender of the planet. Hugo Tagholm is the inspirational CEO of Surfers Against Sewage.
In this event, the two friends and campaigners are in conversation, giving major insight into how you actually achieve positive change at scale. (This will be followed by a book signing of 'The Green Grocer' by Richard Walker.)



Repair Cafe & Five-Minute Fixes - Talk and demonstration, 2pm - 5pm, Thames Ditton Community Centre
Elmbridge's own Repair Cafe (based in Walton) will be on hand to explain about the Repair Cafe movement, find out how to set one up and learn a few easy fixes at home to help us all reduce waste, repair and recycle.
Back to Themes


Spend a Trillion on the Planet! with Rowan Hooper - Talk, Q&A, book signing, 2 - 3pm, Vera Fletcher Hall
In this exclusive interactive and informative session we get to help the author of the smash hit book How to Spend a Trillion Dollars: the ten global problems we can actually fix spend in order to save (us). Join Rowan as he uses science and economics to price up what we really need to do to halt climate change and dial up renewable energy.



Gaia's Planet with Gaia Vince - Talk, Q&A and book signing, 3 - 4pm, Vera Fletcher Hall
The science writer and broadcaster, Gaia Vince, is the first ever female winner of the Royal Society book prize. In this conversation with Lucy Siegle she will discuss her Royal Society award-winning book, Adventures in the Anthropocene: A Journey to the Heart of the Planet We Made, and her recently published new work, Nomad Century: How to Survive the Climate Upheaval.



Making a Difference in Business - Talk, 3pm, Thames Ditton Community Centre
John Gould, Senior Partner at Festival sponsors Russell-Cooke Solicitors, will explain the innovative steps his business is taking to move towards sustainability. From a green-roofed extension to bee-keeping on the rooftops of Putney, hear John's thoughts on how every business can go green.



Slave to Fashion with Safia Minney MBE - Talk, 4.30pm, Vera Fletcher Hall
Entrepreneur and fashion activist, Safia Minney MBE, founder of People Tree and Regenerating Fashion, will talk to us about the multi-million pound fashion industry and how to make fashion sustainable.



We Are The Voice - Children's Environmental Choir, 6.30pm, Vera Fletcher Hall
We are delighted to be presenting a moving performance from the Children's Environmental Choir, We Are the Voice, who sang at COP26 earlier this year. "We sing for the climate, oceans, trees and for the species with whom we share our marvellous planet. And we sing for the children's futures." An unmissable end to our Festival's first day. Click here to get your free tickets.


Back to Themes
Saturday & Sunday 24-25 September

Natural Flow Writing with Katie Randerson - Workshop, 3.00 - 4.30pm both days (different topic each day), Dittons Library
Take inspiration from nature in an introduction to writing-for-wellbeing. With nature-themed prompts, writing tutor Kate Randerson guides us through a relaxed hour of reflective, creative writing. Up to 15 places. Please sign up in Dittons Library from 12 September.



Buy Your Festival Native Wildflower Seeds - Buy a packet of wildflower seeds at the Thames Ditton Community Centre to plant a 1m x 1m patch in your garden and make Thames Ditton & Weston Green a patchwork for wildlife! (Kindly sponsored by the Co-op)



Nature & Climate Photography Exhibition - See the best entries to our Nature & Climate Photography Competition at the Thames Ditton Community Centre and vote for your 'People's Choice'.



Pledge Tree - Come along to the Festival Hub at the Thames Ditton Community Centre and make your pledge to do something differently from now on. (Kindly sponsored by Killik & Co.)



Denny's Bookshop - Stocking the books by all our visiting speakers, as well as other interesting reads on climate change and how to live sustainably. Thames Ditton Community Centre
Back to Themes

Green Gym Workout with Liam Grimley, Elevate Sport, 9.30am, Giggs Hill Green, Thames Ditton. (All levels of fitness.)
We know the power of the great outdoors to heal and sustain us, but how do we maximise the outdoor workout so it is low impact for the planet but transformative for us? Local fitness professional, Liam Grimley, shares some of his secrets in this special session. No need to book - just turn up. (Kindly sponsored by Neal's Yard Remedies.)



Kids: Grow Your Own Clothes With Bella! - Workshop, 10am - 12noon, Thames Ditton Community Centre
Get your stylish kids (ages 4-12) eco-printing with the captivating fashion designer and author, Bella Gonshorovitz. In this fun workshop they will learn about the different colours you can get from vegetables, fruit and plants and how to make eco fabric using petals and kitchen scraps. Places for up to 12 children. Free but you must reserve your place - contact Gill Coates at: gcoates@residents-association.com.



Tech-Takeback - Community recycling activity, 11am - 5pm, Thames Ditton Community Centre
A fabulous opportunity for local residents and businesses to offload all that unused and forgotten-about tech (working or broken) at the Community Centre and learn all about e-waste.
Anyone with unwanted tech including PCs, tablets, laptops, cables, mobile phones, hard drives, USBs, CDs, DVDs, games consoles, digital cameras and satnavs can drop them off with the Tech-Takeback (TTB), a not-for-profit pop-up shop based in Brighton. Yes, really! They will take your clutter off you and put it to good use.



The Circular Economy, Reuse, Recycling and Digital Inclusion with David Greenfield, Visiting Professor, Circular Economy, Brighton University, co-founder of not-for-profit Tech-Takeback (TTB) - Talks, 11.30am & 1.30pm, Thames Ditton Community Centre
Prepare to see electronic waste (one of the fastest growing, most hazardous forms of waste) in a completely new light!
Back to Themes


From Garden to Garment with Bella Gonshorovitz, the Allotment Fashionista - Talk, Q&A, book signing, 1.00 - 1.45pm, Thames Ditton Community Centre
The global fashion industry according to some estimates, creates 10% of global greenhouse gas emissions. Bella Gonshorovitz who used to work for the biggest fashion brands in the world sees a different way forward for our wardrobes. Now a keen allotment holder, hear about Bella's new book Grow, Cook, Dye, Wear which puts the power for a sustainable lifestyle in your green fingers.



The Joy of Compost with Joy Lee - Talk, 2.00 - 2.45pm, Dittons Library
Retired horticultural lecturer, Joy Lee, has been making compost for over 60 years. Here, in conversation with her friend, Gill Coates, she explains the mysteries of the garden's 'black gold'.



Activists Hub - Advice from the experts, Drop in from 11am until 4pm, Dittons Library
Meet our speakers, authors, charities and activists to find out what it's like to get involved or speak up to defend the earth. Unleash your inner eco-warrior!
If that feels a bit too drastic, you can also learn how to Use Your Money for Good with Festival sponsors, Russell-Cooke, who will be on hand to advise on how to leave a legacy to benefit the planet, and Planet Warriors (sustainable shopping pioneers).



Sustainable Travel Clinic with Anna Hughes - Talk and Q&A, 2 - 3pm, Thames Ditton Community Centre
Flight-free adventurer and author Anna Hughes is the director of a campaign group that encourages people to travel without flying. She will answer questions on travelling without costing the earth.



Second-Hand September - An upcycling extravaganza, with special guests including Natascha Radclyfe-Thomas, Professor of Marketing and Sustainable Business at the British School of Fashion, and Vic Binns, founder of the Co-edit app and a former Net-a-porter stylist - Talk and Demos, 3 - 5pm, Thames Ditton Community Centre
From fashion to furniture, learn to keep stuff in circulation for longer. We hand over the space to brilliant local businesses so we can learn how to upcycle, customise, swap, resell and repair, including Bo's Upcycled Pet Toys and Ecocentric Us (bring your empty toiletries and household cleaning containers and buy refills in their pop-up shop). And in a unique interactive workshop our special guests will share their styling secrets for pre-loved clothes. You will never look at your wardrobe the same way!
Back to Themes


Bats and the perils of light pollution with Alison Fure of the London Bat Group - Walk & Talk, 6.45pm. Meet at the northern end of Hampton Court Bridge, at Barge Walk entrance. (Weather dependent.)
Bat expert, Alison Fure of the London Bat Group, will lead this walk at dusk (the best time to see bats) along Barge Walk to look across the river to the Thames Ditton riverbank. She will explain about increasing light pollution and the damage it is doing to our bat populations. Forget the notion that bats are just for Hallowe'en. Learn to love these fascinating, endangered creatures and find out what we can do to help them.

FESTIVAL FINALE

Our Nature & Climate Festival comes to an end with a chance to hear from two very special people. And we will be announcing the winners of our Nature & Climate Photography Competition, judged by Ellie Goulding, UN Global Environment Ambassador.



'From the Under Storey: Rainforest Reconnect' - Concert, 6.30pm, Vera Fletcher Hall, Free
The composer and musician, Alice Boyd performs her haunting elegiac and earth-focused repertoire. An amazing opportunity to hear the Eden Project's composer in residence.
Click here to get your free tickets - covering both these events.


Take a Whale Bath with natural history writer Tom Mustill, 7.15pm, Vera Fletcher Hall, Free
Tom Mustill is an acclaimed wildlife and climate filmmaker. His hits include the viral film featuring Greta Thunberg, Nature Now, which has amassed millions of views.
In 2015 he was whale watching when a humpback breached onto his kayak and nearly killed him. A video clip of the event went viral, and Tom found himself inundated with theories about what happened. He became obsessed with trying to find out what the whale had been thinking. He wished he could just ask it. In the process of making a film about his experience, he discovered that might not be such a crazy idea.
Tom's brand-new book, How To Speak Whale, combines new developments in natural science and AI to decode the language of whales. In this incredible festival first Tom will lead us in a whale bath. We don't know what that means either, but we know this is unmissable.
What a way to close our festival!
* * * * *