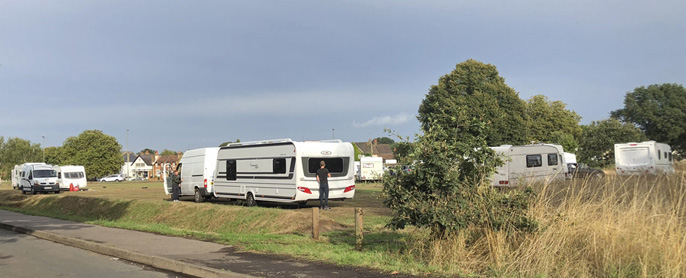 The large traveller incursion last Thursday afternoon in Ditton Common, by Hampton Court Way, thankfully did not last long, the vehicles and caravans leaving by early evening.
Entry to the common was obtained via the council's vehicle access point between the ditches along Weston Green Road. Four police cars were quickly on the scene soon after the travellers arrived. This was no doubt as the result of the diligence of a local resident who alerted the ward councillor immediately. The information was passed to the relevant officer at Elmbridge as the first caravans were entering the site. Both the local borough councillor and the Surrey County councillor monitored the activity on the site throughout the incursion.
This latest invasion came on the day that Elmbridge Borough Council was granted a three-month High Court injunction banning encampments on more than 150 of the borough's parks, open spaces and car parks (go to http://www.elmbridge.gov.uk/news/high-court-grants-injunction/ for details). The injunction authorises enforcement of commons bylaws without having to wait several days to obtain a court order.
It's possible that news of the injunction, circulating on social media, provided sufficient deterrent for the travellers, even though the injunction itself comes into effect only after notices have been placed around the spaces concerned. Or it could be that the narrow and difficult access to the common, which has ditching and banking on either side, has made the site less desirable for encampments especially for large caravans. Whichever - the Council's programme for deterring unauthorised encampments does now seem to be having greater effect.
The injunction however is only temporary; what is needed are changes in the law to enable a more permanent solution to the invasion of our green spaces (see the earlier articles re our MP).
The Residents' Association will continue to press for these changes.