Equal Access to Vaccinations

* Some helpful resources on engaging with South Asian people on COVID-19 are available via the South Asian Health Foundation.
* Information about COVID-19 Vaccine scams in South Asian languages.
* There is plenty of discussion about tackling health inequalities being made worse by the pandemic – see here for blog on vaccine uptake in Black communities.
* Surrey is conducting several initiatives to reduce health inequalities relating to the pandemic and we will update you again in detail in a future briefing.
* If you haven't already, please share the video of BAME celebrities promoting the vaccine. We shared a this a few weeks ago and it is wonderful it has now been screened on prime-time TV.
Emberbrook - 10,000 patients vaccinated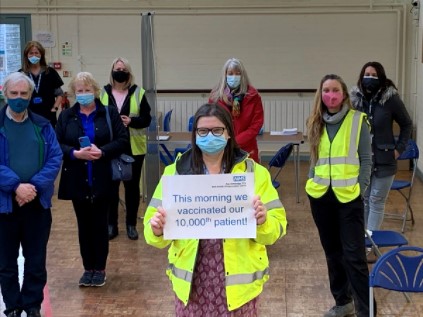 East Elmbridge Primary Care Network have hit the fantastic milestone of their 10,000th Covid vaccine. This is an amazing achievement as the team were involved in restoring services following the fire at Emberbrook two weeks ago. Pictured are the unsung heroes from the booking and pharmacy teams, together with some of the clinic staff and volunteers (photo taken at the Thames Ditton Centre, near Emberbrook).