ELMBRIDGE LEADS THE WAY WITH REUSABLE FACE MASKS
Covid-19 has triggered the use of 129 billion 'disposable' face masks globally every month. The majority of these, including the ubiquitous blue and white masks which look like paper, are made from single-use plastic which is leading to an environmental catastrophe.
Single-use plastic masks, considered medical waste, cannot be recycled and routinely end up in landfill, being incinerated (which contributes to climate change) or make their way into the sea.
We say this has to stop! The scientific advice is clear. Wherever wearing a face mask/covering is mandatory – in shops and supermarkets, on public transport etc, when social distancing is difficult it does not need to be a single-use face mask. A reusable, washable, fabric face mask, ideally cotton, is just as good.
Government recommends reusable face masks as safe to use, but they are failing to communicate that reusables are the environmentally friendly alternative to single-use face masks.
Here in Elmbridge we are committed to spreading this message, that reusable face masks and face coverings protect people and the planet. The Residents' Group/Lib-Dem Administration is leading this campaign by recommending the use of reusables where face masks are mandatory (excluding medical situations where PPE is necessary).
This initiative is being spearheaded by the Thames Ditton Boomerang Bag sewing bees, known for making reusable shopping bags from donated fabric, to give out free to customers instead of plastic bags. As soon as Covid-19 struck, they started making reusable masks out of donated fabric, first supplying NHS workers for off-duty wear, then supplying residents in care homes and sheltered housing units, the EastElmbridge Foodbank, shop workers and community groups, including the WI and NeighbourCare.
The Thames Ditton Boomerang Bag sewing bees are now working to supply their reusable face mask/coverings free to Elmbridge Borough Council officers and volunteers interfacing with the public, including those delivering essential Meals on Wheels to residents in every town and village in the Borough.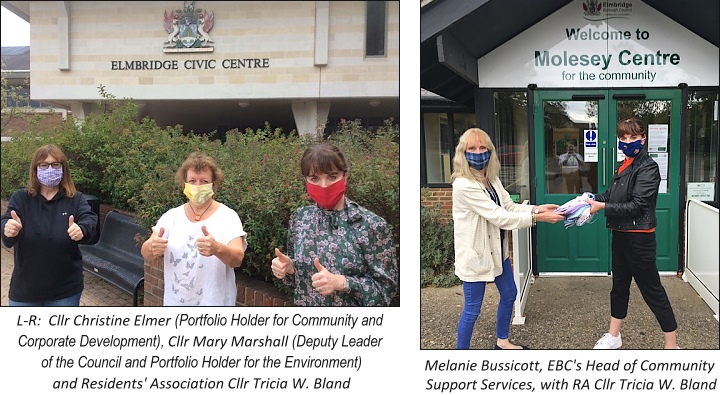 Tricia W. Bland, Organiser Thames Ditton Boomerang Bags & Face Masks, Thames Ditton Councillor, and Chairman EBC Energy & Sustainability Working Group says:
"Single-use plastic face masks take up to 450 years to fully decompose which is why a reusable face mask, made from biodegradable materials is the environmentally friendly choice. We also know that Covid-19 lasts for three days on plastic, so a reusable, washable mask is potentially safer for us and kinder to the planet."


Tricia W. Bland