FLOODING NEWS
The end of March saw the Thames River level reach 5.7m as measured close to Thames Ditton Island. Another 0.5m would have seen flood water coming out of the drains and starting to flood Alexandra Road, as happened at the end of 2013 and early 2014.
Have you signed up for flood alerts (an initial alert when there is the possibility of some flooding) and flood warnings (when property flooding is expected)? If not, please phone the Environment Agency Floodline on 0345 988 1188 or look up their web site, www.gov.uk/sign-up-for-flood-warnings.
The Residents' Association Flood Group recommends that you sign up as if you are resident on Thames Ditton Island. This will provide a flood alert at an expected level of 5.7m and a flood warning at 6.35m. At this flood warning level, water will have started to come onto Alexandra Road, and residents should consider moving cars. If you sign up as a 'mainland' resident, the flood warning level is 6.66m, by which time a few properties may well have already been flooded.
The actual River Level can be viewed on https://flood-warning-information.service.gov.uk/station/7246. This gives the river level for the past five days and the forecast for the next 36 hours, as shown below.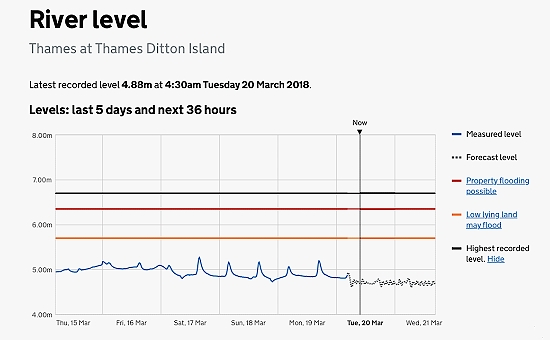 The Residents' Association are working towards adding a Flooding section to our web site which will provide more detailed information relevant to Thames Ditton. We are also working on a Flood Information leaflet to be distributed to 'at risk' residents later in the year.
Tony Thompson
Chairman, Residents' Association Flooding Sub-committee