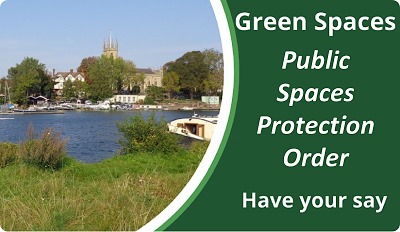 Consultation for Proposed Public Spaces Protection Order (PSPO)
Elmbridge Borough Council is seeking residents' views on whether they should introduce a new Public Space Protection Order (PSPO) on council-owned land to protect our green spaces, countryside sites and riverside sites against:
The use of barbeques (BBQs), campfires, bonfires, fire pits and other activities that involve the lighting of fire

Unauthorised moorings along the river

Overnight camping along the river
As part of the Anti-Social Behaviour, Crime and Policing Act 2014, PSPOs allow local authorities to deal with nuisances or problems arising from anti-social behaviour in a defined public space.
PSPOs can impose restrictions and requirements that are aimed at behaviours that are considered to be having or likely to have a detrimental effect on the quality of life of those in the locality. Such behaviour has to be persistent or continuing nature and be unreasonable.
PSPOs can impose blanket restrictions or requirements or can be targeted against certain behaviours by certain groups at certain times. They can restrict access to public spaces (including certain types of highway) where that route is being used to commit anti-social behaviour.
The Council is responsible for issuing a PSPO, and the restrictions or requirements can be enforced by a police officer or a Council Officer. It may be that the Council will authorise other agencies for enforcement purposes.
The PSPOs would last for 3 years and would be renewable upon review for another 3 years to cover the same areas and activities.
For further information, including the proposed sites to be covered by the PSPOs, and the link to the consultation questionnaire, go to:
https://news.elmbridge.gov.uk/Home/News/consultation-for-proposed-green-spaces-pspo#
The consultation is open until Monday 20 March.