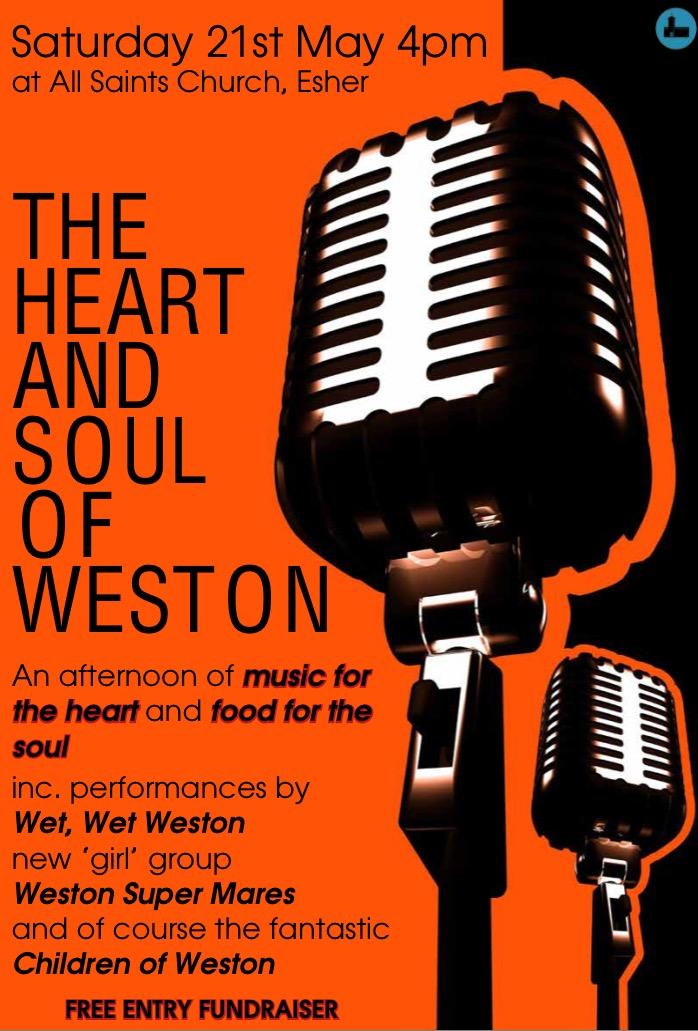 Following on from the enormous success of 'From Weston with Love' the team at All Saints Weston are staging another fundraising musical extravaganza this time with a soul vibe and aptly called 'Heart and Soul of Weston'. The date is Saturday 21st May and the prosecco will be popping from 4pm.
The afternoon's entertainment will bring together a mix of Motown, Gospel and some modern soul thrown in for good measure.
Musical highlights will include performances by Weston Green's newest girl group 'Weston Super Mares' singing a four part arrangement of Hallelujah, old favourites Wet Wet Weston will perform a Barbers shop version of Blue Moon and the fantastic Weston Children's choir will be rounding off the show with a couple of Jackson Five numbers - many of these young singers will be making their performance debuts. Refreshments will have a soul theme - pulled pork baps, popcorn as well as beer, soft drinks, teas and coffees.
Come and raise a glass at another fantastic Weston Green musical spectacular. As this is a fundraising event entrance is free but all donations will go towards developing children's music at All Saints Weston which is at the heart of the Weston Green community.
Date: Saturday 21st May
Time: 4pm
Place: All Saints Weston Green Chestnut Avenue KT10 8JL
Entrance - Donations on the day