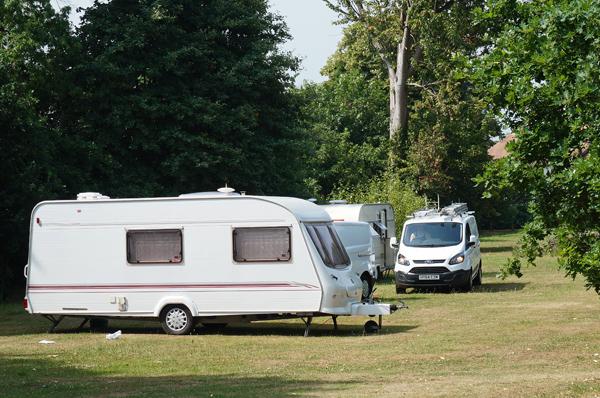 Voicing the concerns of many residents frustrated at the repeated traveller incursions each year, RA Chairman, Graham Cooke, has written to our MP, Dominic Raab, to find out what is being done at government level to deal with this long-standing issue. A copy of his letter is shown below.
UPDATE: Below the letter is Dominic Raab's reply of 10th August.

Dominic Raab MP
House of Commons
London SW1A 0AA
9th August 2018
Dear Dominic,
Unauthorised 'Traveller' Encampments
At a recent Open Meeting of the Thames Ditton and Weston Green Residents Association, a number of distressed residents updated attendees about the effect that the illegal incursion of travellers in Longmead Road, Thames Ditton has had upon them and their families. The upsetting details included harassment of residents, late night noise disturbance and damage to property. Residents also reported that travellers had been defecating on paths and open areas; which were then covered with human excrement and consequently a public health hazard. When the local council finally succeeded in clearing the site there was a considerable mess to be cleared at local taxpayers' expense.
Subsequently, as you know, there have been further traveller incursions locally, most recently at Long Ditton recreation ground. This incident was particularly aggravating as it, effectively, closed a local park, affecting hundreds of people, in particular young families.
Residents report feeling upset and frustrated that nothing seems able to be done to protect their right to enjoy a peaceful private life and that they end up footing a substantial bill when the travellers move on. In some areas shopkeepers are choosing to close while travellers are camped nearby as they have had experience of shoplifting in similar situations in the past.
We have undertaken on behalf of the Association's 1200 members to write to you to ask that you continue to press for this problem to be dealt with at a national level.
We understand that the issue of unauthorised traveller encampments has been raised in Parliament and that as Housing Minister you announced a government review of the law and powers to deal with unauthorised caravan sites. However, for local residents, it seems that progress is painstakingly slow.
Please could you let us know the current status of the government review and what steps you can take as our constituency MP to help bring the misery of unauthorised traveller encampments to an end.
Yours sincerely
Graham Cooke
Chair
Dominic Raab has responded with:
I will reply shortly, with an update on my recent discussions with the local police, as well as the Housing and Planning Minister on proposals to change the law (I raised the issue with him this week).