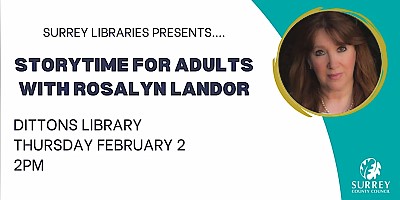 Surrey Libraries have announced the following event at Dittons Library

Surrey Libraries are delighted to welcome celebrated actress Rosalyn Landor to Dittons Library for the latest in our popular Storytime for Adults sessions. Listen to some delightful short stories which will entertain you, thrill and maybe even surprise you over tea and refreshments in a convivial library setting.
The event forms part of the National Storytelling Week which runs through late January and early February 2023. It will be at Dittons Library (Mercer Close, Thames Ditton, KT7 0BS) on Thursday 2 February at 2pm.
Rosalyn Landor is an established film and television actress and her credits include Love in a Cold Climate as Polly, " The Amazing Mr Blunden' as Sara and "Rumpole of the Bailey " as Fiona Allways . In addition to acting, Rosalyn Landor works as a narrator of audio books and has received several awards for her audio work.
Booking necessary: Tickets cost £4.00 via Eventbrite and light refreshments are included.
https://www.eventbrite.com/e/495004440607
Our Storytime for Adults events are popular and early booking is advised.