Heathrow airspace and future operation consultation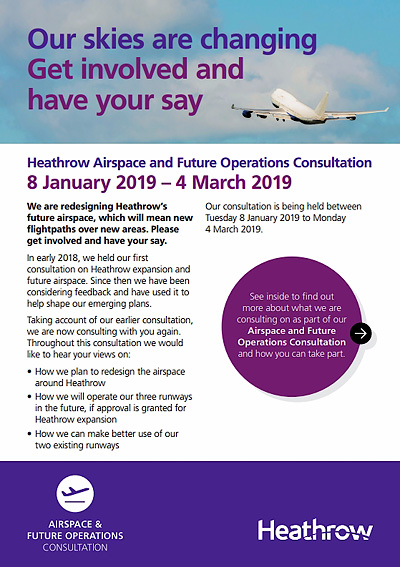 From our County Councillor, Nick Darby:
You may already have received notification of this through the post. Click here to see the full leaflet.
However I am writing this as an alert to all, as there are implications for our community.
Heathrow are proposing changes before any third runway comes into operation. This definitely affects the Dittons. Detailed information is given on the Heathrow website. This covers :-
How Heathrow can make better use of existing runways (up to 2026)

Airspace design for a three runway Heathrow

Night flights

Runway alternation

Noise objectives for an expanded Heathrow
However there are also noise implications for us and possible changes to flight paths and stacking, including aircraft height.
The most convenient consultation event is taking place at :-
Imber Court, Ember Lane on Friday 25 January from 2-8pm.
There is another at the Kingston University campus on Penrhyn Road on Thursday 14 February, again 2-8pm.
This is a chance to have your say.