Surrey County Council have advised that Chestnut Avenue, Esher will be closed for resurfacing on Monday 28 January for 3 days, 7.30am - 5.30pm.
See the map below for the location of the road closure and the diversion route.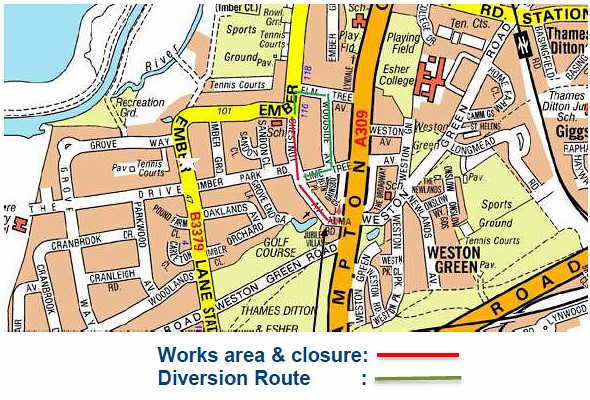 Information for residents and businesses
Chestnut Avenue, Esher will be closed whilst we carry out our surfacing works.
We will make sure you can get to and from your house or business when it is safe to do so. Please talk to a member of our staff on site if you need help – talking to our staff can solve most issues.
The red line indicates the road closure and the areas we will be working in.
Delays in work
Our work is sometimes delayed by bad weather. We will keep you updated on any changes via the advance warning signs.
Parking
It is essential to keep the road free from parked vehicles. Please park somewhere else otherwise your vehicle may be towed away to a nearby road.
Noise
There will be some noise but we will try to keep this to a minimum.
Who is doing this work?
The council's contractor Marshalls will be carrying out these works on our behalf.
Contact us
0300 200 1003 (Monday to Friday 9am to 5pm)

Contact Centre, County Hall, Penrhyn Road, Kingston upon Thames, Surrey KT1 2DN