Commuters' access to and from Esher station has now been made that much better.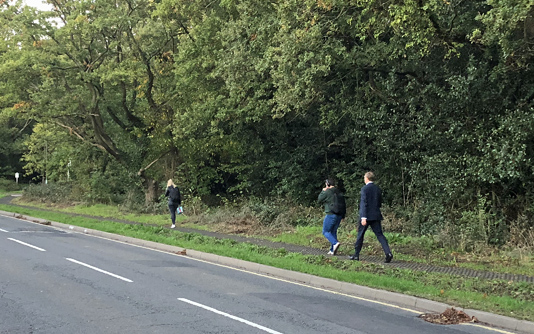 The path by Station Road, from Esher station to the Weston Green Road junction, has now been given an all-weather mesh surface. This will keep users' shoes out of the mud in wet weather, but still allow grass to grow, as appropriate for a common.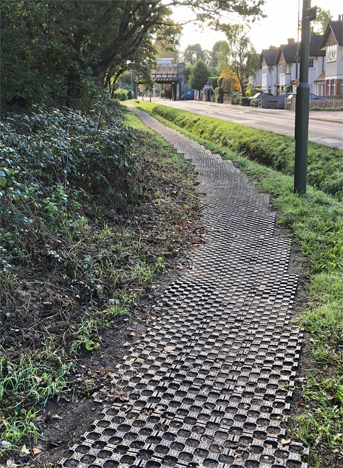 A path was first cleared in 2017 following a request made by a resident at one of the Association's open meetings. He had asked why the pavement along the eastern side of Ember Lane ended on reaching Ditton Common, requiring commuters to cross a busy road twice to reach the station. He suggested it be extended to run along the edge of the common to provide a safer route for many of those going to and from the station.
The Residents' Association, through Cllr Tannia Shipley, supported the idea of improved pedestrian access to the station. However, knowing that Elmbridge Borough Council is very protective of our commons, Cllr Shipley was sure they would not accept a pavement on common land. But she pursued the idea, negotiating with the Council's Countryside Team for a dirt path be cleared. This was approved, and it was agreed that its use would be monitored before any further improvements made. The path proved to be popular with commuters, so Cllr Shipley, supported by co-Councillors, Janet Turner and Nigel Haig-Brown, were then able to secure funding for the installation of the all-weather surface - defined by the council as a 'plastic grasscrete-type surface which provides a defined path whilst retaining the rural character of the common and preserving the biodiversity along the ditch line'.

This is a good example of how the Residents' Association and its Councillors can respond to residents' appeals and work to enhance our local community. It's worth emphasising though that Councillors do not just snap their fingers to get such work done - it takes a lot of negotiation and dogged persistence most of the time.