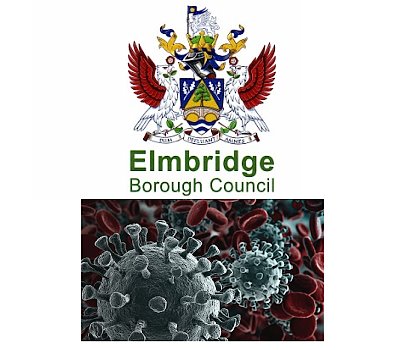 Elmbridge Borough Council have released the information below on services, communication and support for the Elmbridge community.
Recent information
In line with the latest government advice, cemeteries in Elmbridge will re-open today. Social distancing is still advised. Cllr Stuart Selleck, Leader of Elmbridge Borough Council said: "I welcome the Government's decision to re-open cemeteries. Elmbridge cemeteries will reopen today (Monday 20 April). They are a place of comfort for many of our residents and it's right that families should be able to visit them again. However, I would urge our residents to respect social-distancing rule when visiting cemeteries."

A letter from the Secretary of State to all councils thanking them for their continued efforts to support their communities has been shared with all employees at Elmbridge. Click here to see it.
Supporting the Elmbridge community: key messages and activities
Support for the vulnerable: we will not take the direct debits for Community Alarms for April to June.
Welfare calls: we are calling Elmbridge residents on the Govt's shielded list to ensure they have the essential supplies they need.
Meals on wheels: our officers and volunteers continue to provide meals to vulnerable people: approx 150 meals each day.
Shopping service: we are working with Central Surrey Voluntary Action on shopping and medication collection services.
Rough sleepers and homeless: we have secured accommodation for those rough sleepers and homeless in Elmbridge as well as temporary accommodation for those that need it.

Crime prevention:

Our website has information for the public and professionals to help prevent child sex abuse (CSA).

We have advice on preventing and spotting online scams on our website.

Support for those experiencing domestic abuse is on our website.

Surrey Police's webpage on its response: https://www.surrey.police.uk/police-forces/surrey-police/areas/campaigns/campaigns/2020/covid19/

Surrey Police's webpage in relation to general advice and information: https://www.surrey.police.uk/advice/advice-and-information/c19/coronavirus-covid-19/

The OPCC's Coronavirus summary: https://www.surrey-pcc.gov.uk/coronavirus/

The North East Surrey Family Support Team continues to support vulnerable children and families with complex needs.

Universal credit and benefits: there is an information page to support residents with Universal Credit, council tax support, housing allowance and housing benefit queries.

Food bank information is on our website, as well as a page providing details of places in Elmbridge offering food and food deliveries. Elmbridge Borough Council has provided £10,000 to three local food banks to help their work to support vulnerable people.

Car parks in Elmbridge are free for the foreseeable future. Residents are still welcome to walk to commons and green spaces for their daily exercise. A list of closed car parks can be found on our website.

Planning service has resumed site visits but only for sites where it is possible to undertake unaccompanied site visits and observe the governments guidance on social distancing.

The environmental enforcement team are assisting the police with regular patrols to monitor the businesses opening, and social distancing in the borough.

Waste collection: Clothes, battery and small electricals have stopped, the service continues to operate well.

Noise issues: advice for residents on noise issues and being considerate to neighbours.

Communicating to residents: The residents email is issued each Wednesday. Please do encourage people to sign up directly to our email, going out each Wednesday.

Health and wellbeing: we are providing our residents with lots of information and advice in their health and wellbeing.

The Museum team has produced three videos about the resilience of Elmbridge residents during WW2.

Supporting businesses

1,144 grants have been paid to businesses, the total cost is £16M. The next payments will be made on Tuesday (21 April).

We are encouraging businesses to check our website for updates every day.

Our business information page is a key resource for local businesses and we are looking at ways to support those businesses that don't qualify for the Government grant scheme.