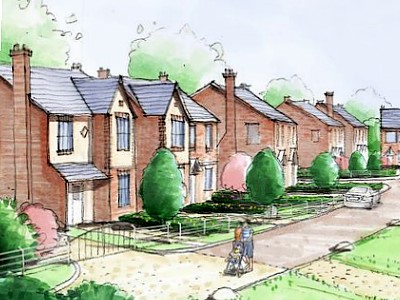 Elmbridge Design Code
Residents invited to drop-by events
Elmbridge Borough Council (EBC) is preparing a new Local Plan which will include policies to shape development in the borough for the next 15 years. In support of our Local Plan there are Supplementary Planning Documents (SPDs) that provide more specific details and guidance on how existing and emerging policies should be implemented. The Design Code is one such document; it will support the implementation of policies relating to design matters in Elmbridge.
Producing a 'Design Code' for the borough is only possible with the involvement of our residents and businesses and its success depends on that collaboration.
What is a Design Code?
A design code is a set of simple, concise, design requirements which set principles for new development in an area. The government's National Planning Policy Framework makes clear that all local planning authorities should prepare a design code.
The aim of the Elmbridge Design Code is to reflect local character and design preferences; providing a framework for creating high-quality design in the borough. The code will have different design requirements tailored to reflect the character of the individual neighbourhoods within the borough. National guidance sets out 10 characteristics of good design and the code for Elmbridge will reflect these priorities and topics where appropriate.
Context – local character and built heritage

Movement – street design and transport types

Nature – design of green infrastructure and the protection of biodiversity

Built Form – density, built form and urban design

Identity – character of buildings

Public space – design and of streets and public spaces

Uses – places to work, shops and play

Homes and buildings – space standards and accessibility

Resources – addressing sustainability and climate change adaptation

Lifespan – creating and maintaining a legacy
Your involvement
The community involvement will be in a form of a series of drop-by events around the borough. EBC will be at various locations over the next few weeks to tell you more about the Design Code and how it can benefit Elmbridge, and more importantly, we want to listen to your views. Locations in and near the Thames Ditton - Weston Green area are:
Friday 7 October, Molesey Centre for the Community, Bishop Fox Way, West Molesey, KT8 2AS, 1.00pm – 3:30pm
Saturday 15 October, Esher's new Farmers' Market, High Street, Esher (Near Hare & Bone salon), 10am – 1pm
Saturday 22 October, Thames Ditton Farmers' Market, Mercer Close car park, 9am – 1pm
Click here to see other locations around Elmbridge, and more information on the Design Code.
As a guide to good design principles, you may also wish to see the following government site:
https://www.gov.uk/government/publications/national-design-guide
Online survey in addition to drop-bys
This part of the Elmbridge Design Code engagement will run until Sunday 30 October and will include an online survey for residents / businesses asking questions such as what features best reflect the character of your local area and neighbourhood and what do you most like about it? It is particularly important that as many people as possible complete the survey questionnaire.
The survey is available via EBC's website (https://elmbridge.commonplace.is/) until 30 October 2022.