SGN, the gas network management company, has given the following update for major gas roadworks, now in Ember Lane.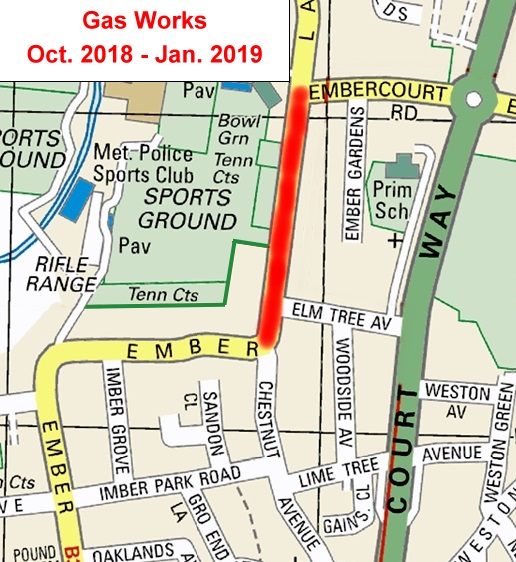 Major Gas Works update for ESHER
You may be aware that we have recently been carrying out some upgrades to our network in The Drive area of Esher. This essential work involves the replacement of old metal gas mains with new plastic pipe to ensure we continue to provide a safe and reliable gas supply to the local area. Our contractor Essex Utilities is undertaking this work on our behalf. I would like to provide you with an update about our work.
Work has been progressing well and we have upgraded a substantial amount of our network in the area. In consultation with Surrey County Council we have agreed to start work on Ember Lane between Embercourt Road and Chestnut Avenue from Monday 22 October for approximately 11 weeks.
We will carry out our work on Ember Lane in three phases as follows:
Phase 1 – We will begin our work on Ember Lane between the junction of Elm Tree Avenue and approximately 100m north to the tennis courts.
Phase 2 – Our engineers will be working between the junction of Elm Tree Avenue and Chestnut Avenue.
Phase 3 – Our engineers will be upgrading our network between the tennis courts and the junction of Ember Court Road.
Throughout all phases, to ensure everyone's safety and maintain traffic flow we need to install temporary multi-way traffic lights around our work area, which will move with us as we progress. To minimise disruption our traffic lights will be manually controlled Monday to Friday 6:30am – 9:30am and 4pm – 6:30pm.
Our engineers will be working Monday to Friday between 8am and 5pm. Where ever possible reinstatement work will be carried out at the weekend between 8am and 4pm. We are mindful of those people who live in the area and will try to minimise noisy activities where possible.
Following this phase of our project we will continue to work in the area with minimal disruption to road users.
All businesses in the local area will remain open as usual. We do have a compensation scheme in place for local businesses which suffer a genuine loss of trade because of our work. Packs are available from our website, sgn.co.uk, via the Publications section.
We understand that people can get frustrated by roadworks. However, the new plastic pipe has a minimum lifespan of 80 years. This means that when the work is complete, Esher homes and businesses will continue to enjoy the benefits of a safe and reliable gas supply for years to come.