RECORD NUMBER OF VOLUNTEERS PLANT OUT THAMES DITTON STATION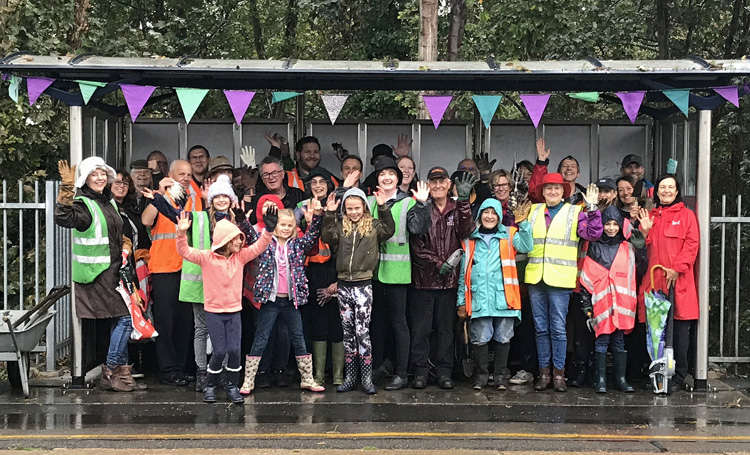 Despite the pouring rain, the Thames Ditton In Bloom team were out in force with sunny smiles and trowels on Sunday for the Autumn/Winter planting of Thames Ditton Station. 'We actually got over 40 - a record number of volunteers,' says organiser, RA Cllr Tricia Bland, 'who took to the task of planting out the 23 wooden planters and 13 wheelbarrows on platforms 1 and 2 with enthusiasm, no doubt energised by Alaa Habbooby of Café Noir, who opened up especially on his day off to keep the gardeners happy with steaming hot lattes and other delicious refreshments.'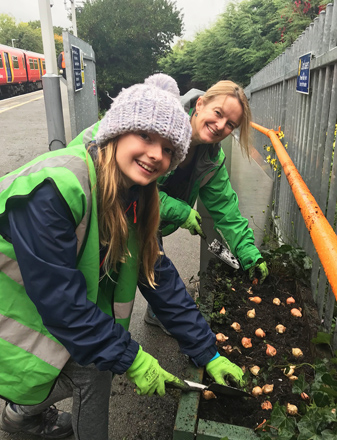 The new season's display comprise orange pansies, yellow and blue polyanthus and variegated ivy which will provide a riot of colour through Autumn/Winter until the Spring when they will be joined by yellow Tet a Tet daffodils and Red Riding Hood tulips. The volunteers also took the opportunity to plant bulbs in the long bed on platform 2 and replanted the white osteospermums, tarragon, mint and oregano from the summer.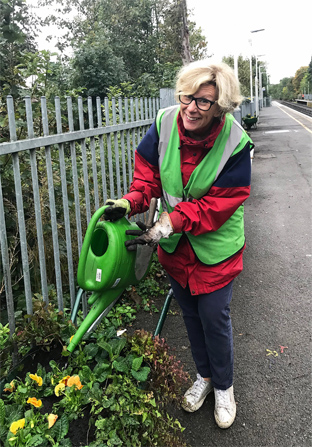 The Thames Ditton In Bloom planting of the station was established back in April 2016, to commemorate the Queen's 90th birthday, when the volunteer team planted out ten wooden railing-mounted planters, made by the Men In Sheds volunteer group, and a handful of donated wheelbarrows, but has grown and flourished with every season since. In April this year, in collaboration with the Bee Friendly Trust, three large planters filled with bee-friendly plants was erected on platform 2, and a wildflower meadow laid to the entrance of platform 1, along with three bug hotels to attract butterflies and insects. The volunteers have also cultivated a long flower bed on platform 2.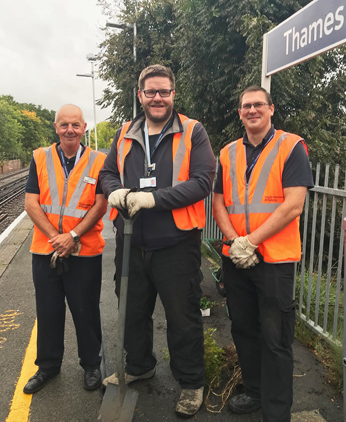 'Thames Ditton Bloom on TD station is a true community collaboration,' says Tricia. Apart from our continued partnership with the Men In Sheds and volunteer gardeners, local South Western Train staff give their time and enthusiasm to help with the planting and we are supported by the Thames Ditton & Weston Green Residents' Association and expert horticultural staff from the Green Spaces team at Elmbridge Borough Council. Our fantastic commuters and visitors also help with donations, by buying the cakes and brownies baked especially to fund the project, available for sale at Café Noir, the Station Café which has been judged the Best Independent Retailer in Elmbridge for the second year running'.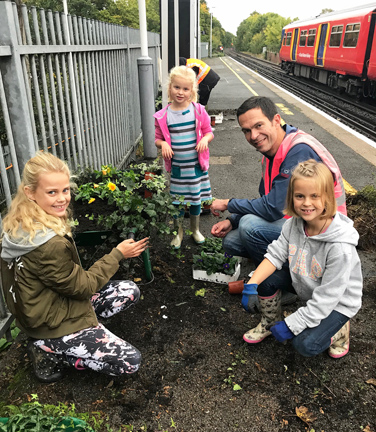 Thames Ditton In Bloom was recently awarded a highly prized Level 2, In Your Neighbourhood Award in the 2018 RHS Britain In Bloom Awards.