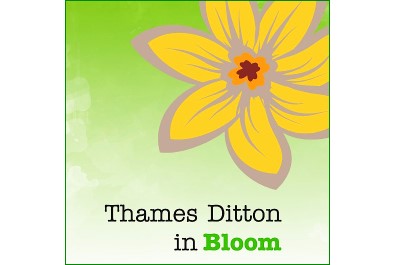 Thames Ditton in Bloom Summer Planting Day
On Sunday morning, 30 local volunteers armed with trowels and gardening gloves made their way to Thames Ditton Station to plant out the 17 railing planters, 10 wheelbarrows and 3 floor standing tubs with a wide variety of seasonal plants which will provide a riot of colour in the Station Garden all summer long.
The plant selection includes pink and purple Dahlias and Geraniums, peach and orange Gegonias, yellow Gazanias, plus trailing rose Calibrachoa and yellow Nemesia and Bidens.
This glorious combination will guarantee a magnificent display for the upcoming Platinum Jubilee, on to Wimbledon and the Commonwealth Games and through the summer festival season culminating in August and September. All the planting is funded by the Thames Ditton Foundation with a generous contribution from Elmbridge Borough Council.
Thames Ditton In Bloom burst into life on Thames Ditton Station in 2016 and has flourished ever since, gaining a Level 4 Thriving Award in the Britain In Bloom, South & South East In Bloom Awards.
Sustainability lies at the heart of the garden, as apart from the decorative planters and wheelbarrows, there are three large Bee Friendly Trust bee and insect friendly planters, a wildflower meadow area with three bug hotels, a bat box and stunning bee, butterfly and insect artworks made by local artists in collaboration with the Men In Sheds volunteer woodworking group, which also made the railing planters. The glorious, colourful bunting which decorates the ticket office is made by the volunteer Thames Ditton Boomerang Bag sewing bees from donated fabric.
Thames Ditton In Bloom comes under the auspices of the Thames Ditton Foundation which supports and brings the local community together. It also supports the Thames Ditton Boomerang Bag initiative and various High Street initiatives including the Thames Ditton High Street website and this year's Platinum Jubilee decorations for TD High Street.
For further information contact Tricia Bland: tricia@the-blands.co.uk
Organiser Thames Ditton In Bloom, Trustee Thames Ditton Foundation