THAMES DITTON IN BLOOM PLANT THE HIGH STREET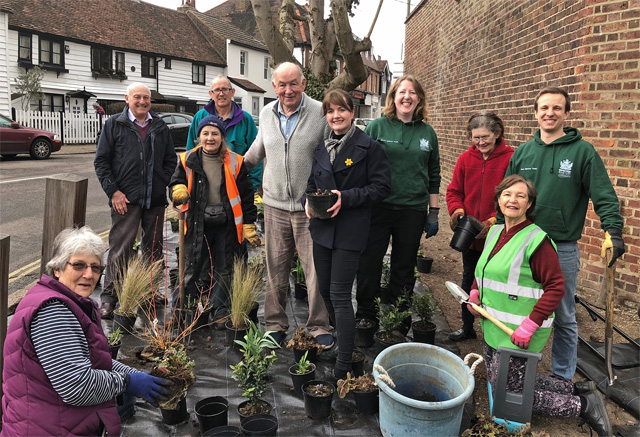 Volunteers from the Thames Ditton In Bloom community gardening team were out in force on Sunday 26 March to plant out the long bed to the front of the bus stop near the entrance to Boyle Farm, plus the wooden planters lining the High Street up to Summer Road. They were joined by residents from Boyle Farm plus officers from the Green Spaces team at Elmbridge Borough Council.
'The Thames Ditton In Bloom team have been wanting to garden this area for a very long time, but we had to wait until Surrey County Council would grant a cultivation license to the Thames Ditton & Weston Green Residents' Association before work could commence,' says RA councillor and Thames Ditton In Bloom organiser Tricia W. Bland. 'The tree also needed careful pruning as the canopy had grown out of control and this work was funded by the Boyle Farm Residents' Association'.
'This was a fantastic team effort,' says Tricia, and I have to thank our Thames Ditton In Bloom regular volunteers Nicky, Anne, Avril, the two Marie's and Jill, plus Celia, Howard, Paul, Michael and Caroline (enthusiastically assisted by her daughter Cecilia) from Boyle Farm'.
'Our thanks must also go to Elmbridge Borough Council for so generously supporting the work of Thames Ditton In Bloom.'
Thames Ditton In Bloom will be planting Thames Ditton station on Sunday 13 May. For further information and to volunteer, please contact Tricia: tdwgra@the-blands.co.uk