More resurfacing scheduled for the Scilly Isles roundabout area, Thursday 6 December for 5 weekday nights, 8pm - 6am.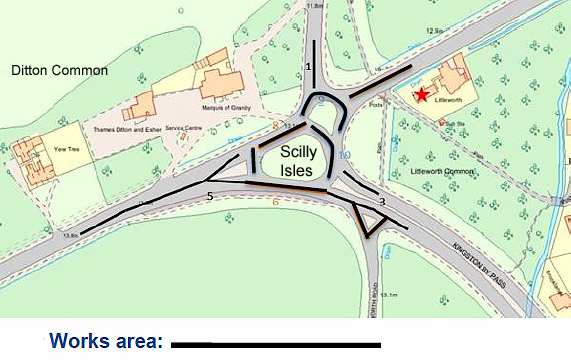 Surrey County Council have advised the following about the Scilly Isles road repair:
Sections of the carriageway at Scilly Isles Roundabout will be closed whilst we carry out our essential carriageway repair works. We will make sure you can get to and from your house or business when it is safe to do so. Please talk to a member of our staff on site if you need help – talking to our staff can solve most issues. The black lines indicate the carriageway closures and the approximate areas we will be working in. Diversions will be in place when there are road closures, please follow the diversion signs.
Night works: Working overnight is necessary on traffic sensitive roads to reduce disruption during peak times. It also enables longer uninterrupted working before the closure has to be lifted for daytime traffic, and results in a shorter period of disruption.
Delays in work: Our work is sometimes delayed by bad weather. We will keep you updated on any changes via the advance warning signs.
Parking: It is essential to keep the road free from parked vehicles. Please park somewhere else otherwise your vehicle may be towed away to a nearby road.
Noise: There will be some noise but we will try to keep this to a minimum.
If one of our signs has been left behind, please help us by reporting it - www.RemoveThisSign.com
Buses: If you use the bus, check with your bus operator to find out if there are any alterations to the service during these roadworks. You'll find all Surrey's operators and their websites listed here: www.surreycc.gov.uk/busoperators
Who is doing this work: The council's contractor Kier will be carrying out these works on our behalf.
Background to the repair:
This is a really busy roundabout and a challenging area to work in. Last summer the whole area was resurfaced and there was a change to some of the lanes priorities. The works were well managed and well received. Unfortunately Officers noticed that soon after completion in some areas the road surface was deteriorating, especially where vehicles were breaking. Officers from our laboratory have been monitoring the situation but unfortunately the surface has not improved with use. Large sections need to be planned out and relayed or retextured. Retexturing is where the existing surface is kept, but treated to improve its performance. It appears the problem was caused by a poor batch of surfacing material being issued from the distributing plant. It was not to do with how it was laid.
The cost of this is being met by our contractors, there is no additional cost to the Surrey taxpayer. There will be a new ten year guarantee on the whole works once these remedial problems have been fixed. Advance warning signs and diversions will be in place and all will be done to minimise the inevitable disruption.
If you have any queries, contact RA County Councillor, Nick Darby - 020 8398 2382 or nick.darby@surreycc.gov.uk