WESTON GREEN NOW HAS ITS OWN LITTER-PICK GROUP, SET UP BY OUR ELMBRIDGE MAYOR, CLLR TANNIA SHIPLEY.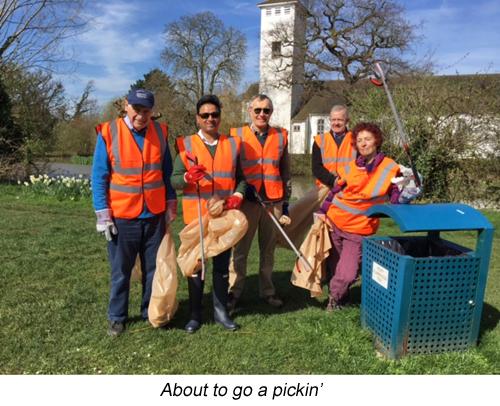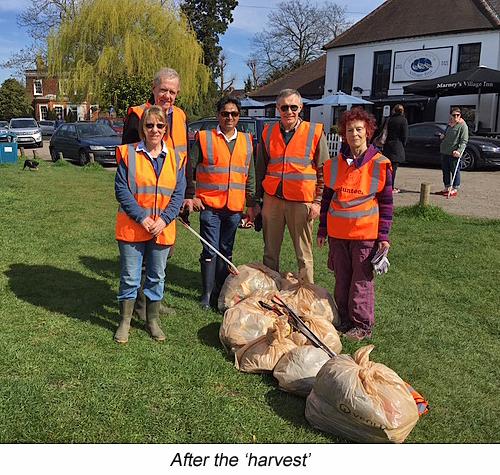 The inaugural session of the Weston Green Litter Pickers was held recently, and as the photos show, was much favoured by the weather. This small first group covered just the Green and Common either side of Hampton Court Way, and also The Broadway - and the rubbish collected in a short space of time shows the need for such work.
Litter-picker numbers have now risen to 16, so a wider area can be covered - wherever it's needed in Weston Green. They'll be meeting every month, on the first Saturday; although many of its members also pick up litter at other times as they walk round our green spaces - it can build up so quickly and become a real eyesore.
So if you see Weston Green's Litter Pickers out and about with their high-viz vests and litter sticks, give them a wave or a cheery greeting. They're not council employees, just volunteer residents actively working to keep our environment clean for everyone's enjoyment.
The group is very grateful to Tom Duxberry at Marney's Village Inn for helping with the storage of equipment and providing a meeting point for the group's monthly gatherings. Thanks also go to Elmbridge Borough Council's Environmental Care Division for supplying the equipment and providing a special collection of rubbish on Saturdays.
Peter Haynes