THAMES DITTON CELEBRATES HANGING BASKETS IN THE HIGH STREET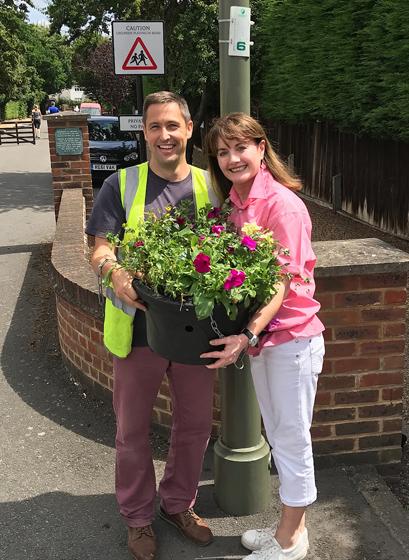 Friday lunchtime, shoppers were greeted by the sight of 20 beautiful hanging baskets being put up on lamp posts and brackets on houses and shops the length of the High Street, installed by the green-fingered team from Burleys, Elmbridge green space-contractors, under the direction of horticultural wiz Justin Grimshaw - the first time the High Street has been adorned in this way.
RA Councillor and organiser of Thames Ditton In Bloom, Tricia W. Bland, is thrilled that the project has so many generous supporters. 'Thames Ditton Farmers' Market has given its first year community project donation towards the initiative whilst Caring Homes have sponsored the five hanging baskets lining the High Street near the Home of Compassion. Developer Dominic Barrington-Brown is another enthusiastic backer. Dominic, who grew up in Thames Ditton, is currently building a number of cottages on the site of the old Hawkes Ginger Beer Factory in the High Street and has pledged to support the hanging baskets project for five years, so we can all enjoy the floral displays for many summers to come.'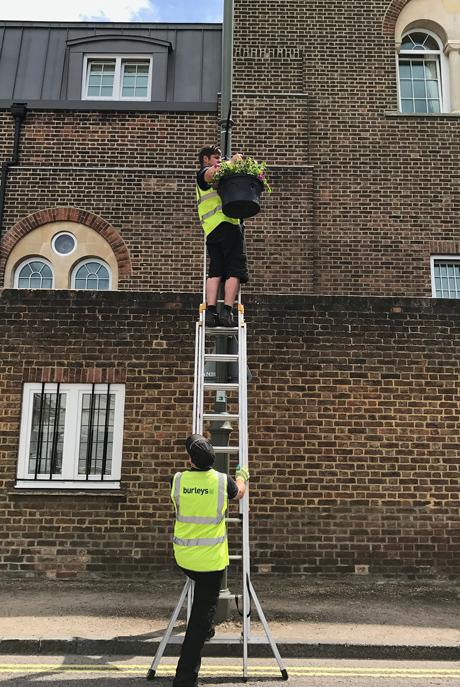 'Elmbridge Borough Council is also backing the project,' explains Tricia, 'through its ECIF grant for infrastructure, whilst Elmbridge In Bloom is helping to nurture Thames Ditton In Bloom in the village. This has seen volunteer teams planting up 23 wooden planters and 12 wheelbarrows on both platforms at Thames Ditton Station, so commuters and visitors are greeted by fabulous floral displays all year round. The hanging baskets in the High Street is phase two of Thames Ditton In Bloom and we are currently working on phase three which will see small green areas in the village tidied up and planted up'.
Thames Ditton In Bloom's long term vision is to become known as the 'garden of Elmbridge'.
'The germination for this began over 20 years ago', says Tricia, 'when resident John Lyon had the brilliant idea of planting out all the verges, green spaces, commons and ponds of Thames Ditton and Weston Green, making the villages abundant with daffodils every spring. That's in excess of 20,000 blooms! And since the boundary changes, with the inclusion of areas of East Molesey in the Thames Ditton ward, the bulb planting is being extended further afield, to here too'.
'We in Thames Ditton In Bloom are passionate about making the village a floral flagship for the Borough.'
For more information on everything Thames Ditton in Bloom and to become a volunteer, contact Tricia by email: tdwgra@the-blands.co.uk