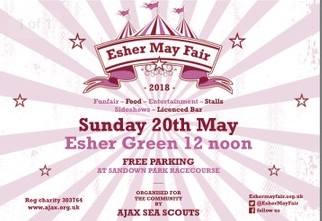 The 63rd Esher May Fair on Esher Green will be opened by The Mayor of Elmbridge at noon, on Sunday 20 May 2018. This popular local community event is a major fundraising activity for the organizers, 4th Thames Ditton 'Ajax' Sea Scouts. They are not the only group to benefit though, charities and organisations such as the RNLI and Friends of the Strays of Greece have stalls on the day and raise money for their own good causes.
An action packed, fun afternoon out for all the family. The fair has traditional fairground rides, stalls selling arts and crafts, charity items and local products. The ever popular auction will have items for children and adults. An exciting programme of Arena Events runs from 11.45am until 4pm and includes the 3rd Molesey Scout & Guide Band, Kuk Sool Won Martial Arts, PAPA – the Performing Arts Parents Association from Esher High School, Chadsworth Stage School and a Canine Gymkhana. The main sponsor this year is local Estate Agent, Savills Esher and Hawk on the Wild Side will be making their first appearance at the Fair, providing a flying display by birds of prey and an area where professional falconers will be available to answer questions about the birds.
To sustain the family and to provide the opportunity to sit down and relax, a wide variety of refreshments will be on offer including the famous Ajax Sea Scouts tea tent, the ever popular Ajax barbeque and, for those in need of something stronger, a beer and prosecco tent sponsored by Wellden Turnbull.
Free parking is available at Sandown Park, we are hoping for excellent weather and a great turnout.
For further information about the Esher May Fair, the auction list and a detailed itinerary of the day's events , please see www.eshermayfair.org.uk or visit our Facebook page, www.facebook.com/eshermayfair.