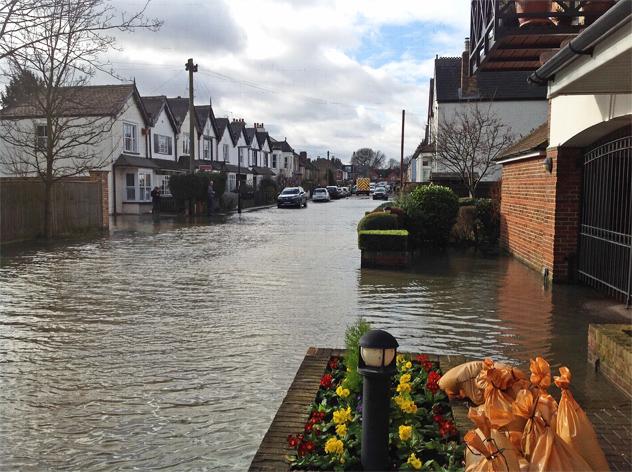 Since the flooding in February 2014 the Residents' Association has been taking a very active interest in the River Thames Scheme being planned by the Environment Agency (EA) and its potential impact upon Thames Ditton. Although the planning/design has not been completed, it looks as though the scheme will make little difference to us and there is a local feeling that it may even be a bit worse as it is primarily concentrated upstream and will increase (by a predicted small amount) the peak water flow past us!
Following a couple of public meetings in July (see Thames Ditton Today, Autumn 2017), the Residents' Association has formed a sub-committee, with me as convenor, to liaise with the EA and prepare a Community Flood Plan so that we are better prepared for the inevitable next time. Further volunteers to join the sub-committee would be welcome, especially those in roads affected by the 2014 flooding. If you are interested, please contact me, Tony Thompson, at aathompson_uk@yahoo.co.uk
.
I would particularly like to hear from anyone resident in Riversdale Road or Aragon Avenue who was affected, even if only by water coming onto their gardens as there seems to be some quite low land between Riversdale Road and Summer Road and to the north of Aragon Avenue.
Bear in mind that next time it might be worse and we need to be prepared!
We are lucky to have a PhD student, Josefina Bravo, working with us to help prepare the Flood Plan. She will be organising small discussion groups of local residents to find out what their flooding concerns are and what information they think is important. She would like to hear from potential volunteers to attend a local session for an hour or two. Please contact her at floodmaterialsforthames@gmail.com
.
Finally, at the public meetings, we prepared a list of relevant questions, at the request of Surrey County Council, that they would answer at a multi-agency meeting. This meeting has been delayed, but when it does happen we will publish the responses. Thanks to everyone who helped prepare the questions!
Convenor, Thames Ditton Flooding Sub-committee