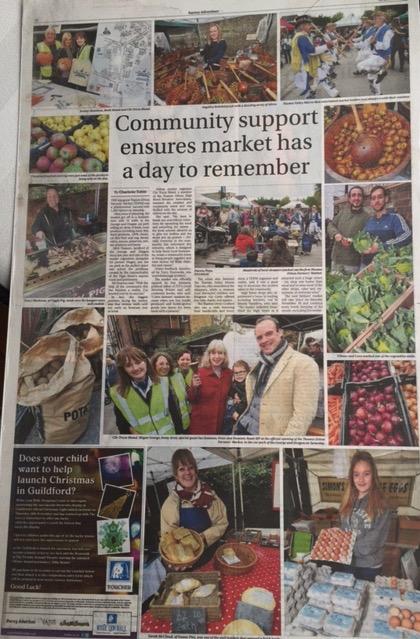 Saturday 24 October saw the first Farmers' Market open for business in Thames Ditton High Street, welcoming a 'phenomenal' 1200 visitors. Taking place in the George & Dragon Car Park there were 23 stalls selling a fantastic array of fresh, local produce including meat, fish, dairy products, 100% chemical free fruit and veg, bread, cakes, sauces, preserves, artisan products and lots, lots more. The idea for a Farmers' Market was originally mooted in 2012 after a comprehensive survey of residents showed over 90% of the community welcomed the idea. Sue Jameson, self confessed foodie and Political Editor of ITV's Good Morning, officially opened the Market and said, "I love farmers' markets because when you buy locally produced and home grown goods you know it's been made with a passion. You are buying the love that goes in to it, and it usually means it tastes a whole lot better."
Mick Pearson, one of the organisers of the initiative alongside his partner Megan, who runs the Thames Ditton Farmers' Market FaceBook page, said, "I knew this would be the perfect space for a Farmers' Market as soon as I came on board as landlord of the George & Dragon back in 2014. And with the help of the community this has now become a reality. I'm bowled over by its success."
Jack Avon, also on the Farmers' Market team, said a special thanks should be given to Elmbridge Borough Council, "for all their support and encouragement and for help towards start up costs via the ECIF Fund, so invaluable for local businesses."
Fellow organiser Residents' Association Councillor Tricia Bland, also a member of the Thames Ditton High Street Retailers' Association manned the Retailers and Community Stand and was thrilled by the number of visitors. "We have to thank our marvellous volunteers for spreading the word and pounding the streets – the local schools allowed us to give out leaflets and the shops put up posters – virtually everyone in the community has welcomed this initiative which is designed to help boost local businesses, create a community event to bring people together and to raise money for local charities and causes."
Dave Jacobson, Chairman of Surbiton Farmers' Market who has helped mentor the Thames Ditton FM team came along to the first event and offered congratulations all round. "I was mightily impressed by the range and the quality of the stalls and all the locally produced marketing materials. I'm looking forward to this being a regular event – it will complement our Surbiton Farmers' Market held every third Saturday of the month in Maple Road."
Tracy Paurowski, also on the TDFM team monitored feedback from visitors and said that it had been "overwhelmingly positive". The only disappointment, more of a niggle really, was that some of the stalls sold out early, but that's because business was brisk which has to be a good thing.
Nigel Wild, an Esher resident who normally only occasionally visits the High Street said "the Farmers' Market was brilliant and I will definitely come every month from now on."
Jeremy Hamilton, who runs the Stitchery gift shop in the High Street, took a stall at the Fair and sold items by the celebrated local artist, Lisa Tolley. For market day, Lisa drew a beautiful High Street map which was given away to visitors. "The Market definitely benefitted the High Street as it attracted such a huge crowd – my shop Stitchery was busier than usual and so were most of the other shops, cafes and restaurants, so everyone wins."
This was confirmed by Richard Curtis, who runs View Gallery in the High Street. "Our special exhibition of watercolours by Rod Pearson, inspired by the poppy installation at the Tower of London sold out, with most of the paintings being bought on Saturday . For every painting sold, at least £125 was donated to the Royal British Legion, raising £1,075 for the charity". Richard and Stuart Sutch of the Set Up Design also designed the stylish Thames Ditton Farmers' Market logo and other promotional materials.
The Thames Ditton Farmers' Market wasn't just about shopping, however. The Thames Ditton Crafters took a stall featuring their locally made handicrafts. Jenny Avon, also on the organising team and a key member of the Thames Ditton Crafters said it was a great way to showcase the creative talent in the community.
There was plenty of fun too. The Thames Valley Morris Dancers entertained the crowd, while a Treasure Hunt engaged the kids as the parents and grandparents shopped. For cycle mad residents, Kingston Go Cycle offered free Dr. Bike cycle checks/repairs.
Andrew Manning of Cyclelink who manned the Kingston Go Cycle Stall said, "this is the best event we've ever attended in terms of enquiries and enthusiasm and we've fixed a lot of bikes too!."
The next Thames Ditton Farmers' Market is on Saturday November 28 at The George & Dragon Car Park, High Street Thames Ditton. (Then every fourth Saturday, excluding December). In November it will be followed by the Thames Ditton High Street Christmas Fair on Sunday November 29, 3-6pm, which this year has a Winter Wonderland theme.