Free Thames Ditton Boomerang Bag Face Masks/Coverings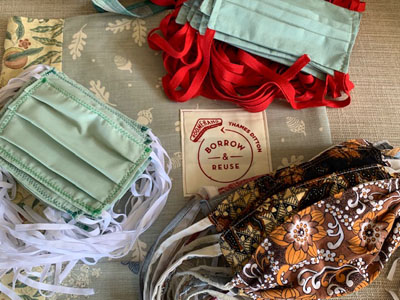 It is now mandatory to wear face coverings/masks on public transport, in Ubers and NHS hospitals, and it is likely to become obligatory to wear them in shops. Government guidance also recommends that people should wear a face covering in enclosed public spaces where social distancing isn't possible.
The Thames Ditton Boomerang Bag sewing bees are now making reusable, washable face coverings/masks for residents and staff in our local care homes, sheltered accommodation and for those working in our local shops and cafes.
The TDBBs are also looking to offer their BB face coverings/masks free to the more vulnerable in our community – these are not official PPE but they do offer a degree of protection and reassurance whilst being single-use plastic free and more environmentally friendly.
If you have been self-isolating and are now tentatively venturing out of doors, and would like a TDBB face covering for your own use, please contact Tricia on the following email:
Please note, only a limited amount of TDBB face coverings/masks are being made each week so we cannot guarantee to supply local residents who qualify, but we will do our best! These will be delivered free of charge in the Thames Ditton - Weston Green area.