Heathrow Expansion Consultation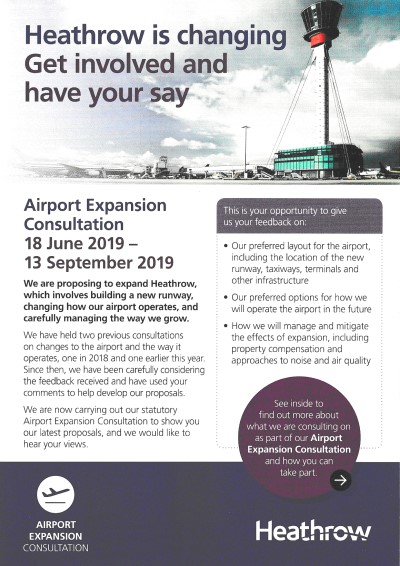 You may have received this leaflet through your front door back in June. This new consultation relates to Heathrow's planned third runway - its construction and the subsequent expansion in the number of flights.
Click here to go to the website for more details, and to take part in the survey.
As in the earlier consultation, there will be a number of consultation events during July and August at numerous locations. Those closest to us are:-
Tue 23 July, 2-8pm: Imber Court Sports Club, Ember Lane, East Molesey KT8 0BT.
Thu 15 August, 2-8pm: Xcel Sports Hub, Waterside Drive, Walton-on-Thames KT12 2JG.
Tue 27 August, 2-8pm: Kingston University, Penrhyn Road Campus, Kingston-on-Thames KT1 2EE.
Click here to see the full list of consultation events.
Consultation documents may be inspected at Elmbridge Borough Council's Civic Centre, Esher KT10 9SD, and also at numerous other locations. Click here to see the full list of inspection locations.
Please remember these consultations are as much about increased flights, noise and pollution now, not just about third runway issues in years to come. It is vital everyone understands, and makes their views known.
The consultation closes 13 September 2019.