Proposed new Temporary Pedestrian Zone in Thames Ditton High Street - Have Your Say
Surrey County Council is consulting on a possible temporary pedestrian zone in Thames Ditton High Street. The consultation document (below) has been posted to those living in, and close to the High Street, but all residents are welcome to comment, before 13th October.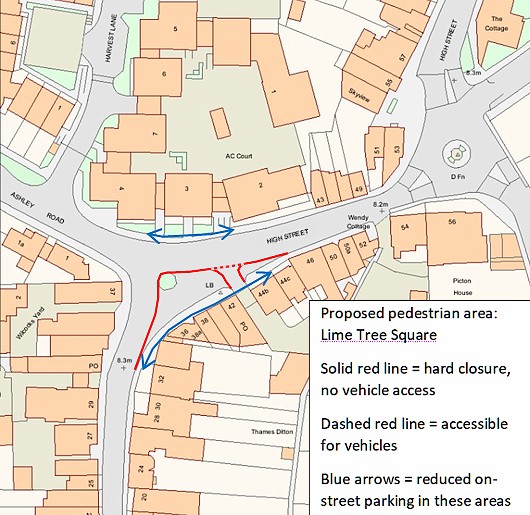 Surrey Highways
Hazel House, Merrow Lane
Guildford, Surrey GU4 7BQ
Our Ref: Thames Ditton Consult
Dear Resident / Business owner,
RE: PROPOSED NEW PEDESTRIAN ZONE IN THAMES DITTON HIGH STREET
As part of the Government's Active Travel programme Surrey County Council would like to assess whether there is support for a new pedestrian area in Thames Ditton High Street, to be implemented on a trial / experimental basis during the COVID-19 recovery period. As things currently stand, the pavements in the High Street are narrow and there isn't much dedicated space for pedestrians, which makes social distancing a challenge. There is very little space for economic activity on the Highway itself – for example for cafes to put out tables and chairs or for market stalls. The objectives of a new pedestrian zone scheme would be:
To provide more space for pedestrians in Thames Ditton High Street.

To provide space for economic activity on the Highway in Thames Ditton High Street.
The proposal is centred on the Lime Tree at the junction of the High Street with Ashley Road. It would involve converting some of the carriageway near the Lime Tree in the middle of the High Street into pavement. This would result in a number of parking spaces being removed from the area near the Lime Tree while the scheme was deployed. The scheme would not necessarily need to be deployed on a 24-7 basis but could be deployed on days and at times to suit the local business and resident community. I have included a drawing of the proposal with this letter.
Full vehicle access along the High Street would be maintained at all times. Please note that Elmbridge Borough Council has now restored the charges in the Ashley Road car park and has indicated that these charges will remain in place during the trial / experimental period.
The duration of the trial / experimental would be in line with the Government's decision making to ease lockdown following COVID-19. Further public consultation would be conducted at the end of the trial / experimental period before any decision was taken to remove the scheme, or to make the scheme permanent (in part or in its entirety). The scheme would be designed using temporary equipment – planters etc – so that it could be modified or removed quickly if necessary, in response to how it actually operates and the effects that it has.
We realise that this proposed scheme will have positive benefits from some members of the local community, and negative impacts for others. For example, some people may welcome additional space for pedestrians in the High Street, while others may be concerned about the loss of on-street parking. We would like to give the community an opportunity to hear about the proposal in person, to ask questions or to raise any concerns they might have. To this end we will be arranging a virtual meeting on Tuesday 29th September 2020 at 7pm. Please could you e-mail highways@surreycc.gov.uk if you would like to attend this.
We would be grateful to hear your views as to whether you would support this trial / experimental scheme, and whether you have any other feedback in relation to this scheme. Please could you therefore complete the online survey at: https://www.surreysays.co.uk/environment-and-infrastructure/thamesditton If you would rather have a paper copy of the survey, then please do get in touch. If you do have any questions about this proposal, I would encourage you to attend the virtual meeting before you fill in the questionnaire.
Please complete the short questionnaire plus any additional comments online before 13th October 2020.
The comments received will be analysed and considered before a decision is made on how to proceed. Should the scheme be supported, it is likely that the trial will start by the end of October 2020.
Thank you in advance for your participation.

Yours sincerely
Nick Healey
Area Highway Manager
Surrey County Council
Tel: 0300 200 1003
www.surreycc.gov.uk/highways