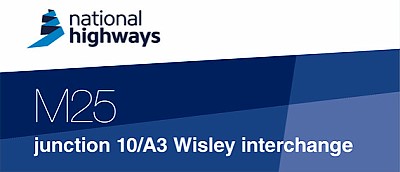 National Highways have issued the following progress update on the preparatory work for the M25 Junction 10 upgrade.
You may have noticed that we've been busy getting ready to start our main work. We wanted to let you know about some changes that you will start see on the A3 and M25 in the new year.
From January, we'll be introducing temporary changes to the road layout around M25 junction 10/A3 Wisley interchange to help keep traffic flowing smoothly and create a safe working area for our team. We'll be putting in narrow lanes and reducing the speed limit to 50 mph on the A3 on both sides of the junction, and the M25 as it passes through junction 10. This will ensure that we can continue to keep the same number of lanes open, and create a safe working space for our team. We'll be sharing more details about these closures soon.
We'll still need to carry out some overnight closures in December for our preparation work and you can find out more information about these on our webpage. We apologise for any inconvenience these closures may cause.
We've already started working around the common areas, and at times you may find that we have diversion routes in place to allow us to carry out our work.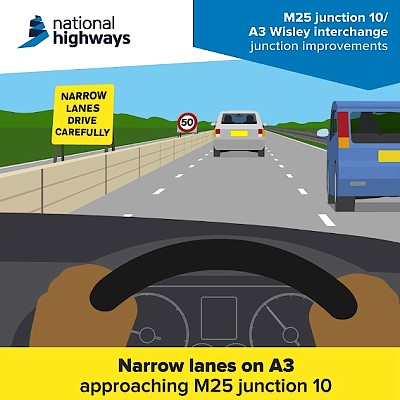 We're getting ready to move into our main project office at Nutberry Farm in December. We'll usually work between 7:30am and 6pm Mondays to Fridays, and 8am to 7pm on Saturdays, so there may be times when you won't see anyone on site.
For safety reasons we'll be closing the pedestrian crossings on the M25 junction 10 roundabout from late January, and a diversion will be in place over the Clearmount Bridge. We're delivering longer term improvements to the local network of footpaths and bridleways. You can find out more about this work on our factsheet.

For further details on the work, go to the National Highways web page.