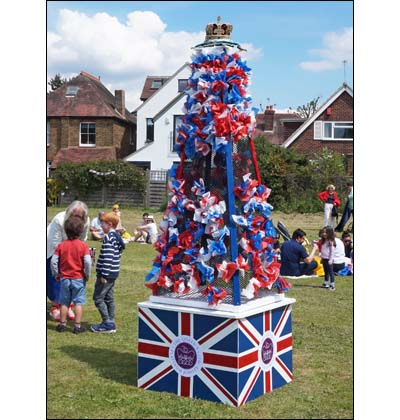 RA's Platinum Jubilee Picnic on Weston Green enjoyed by many residents
The RA's Jubilee Picnic celebration last Thursday brought out around 150 residents onto Weston Green, by Milbourne Pond, to enjoy some sun, music and refreshments - and help decorate the lovely Jubilee Obelisk.
The event was organised by RA Cllr Gill Coates, who arranged for a pizza van and gin-based refreshments to be there, along with a jazz band to set the mood. She even had the grass cut the day before and, we suspect, used higher influence to ensure the lovely weather. Gill's husband, Nigel, constructed the obelisk which was decorated in red, white & blue during the afternoon.
All in all it was a great afternoon, receiving the ultimate compliment from participants - 'Can we do this again next year?' Seems they don't want to wait for another royal occasion.

More coverage of local Jubilee celebrations can be seen in the Summer edition of Thames Ditton Today, out soon.