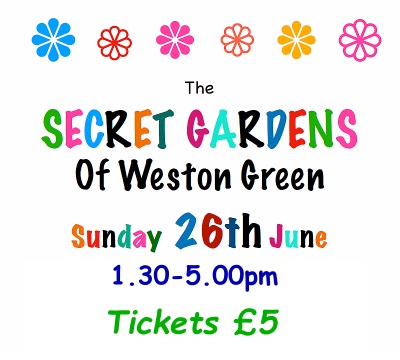 Secret Gardens of Weston Green
Tickets now available
The Secret Gardens event on Sunday 26th June is a chance to spend a lovely afternoon (1.30-5.00pm) seeing some fascinating gardens - some that you may have walked past for years without realising they were there. Chat to garden enthusiasts and get some ideas for your own garden; or just enjoy the atmosphere.
For just £5 you'll be able to visit all ten gardens, within reasonable walking distance of each other. Afternoon tea will be available at All Saints Church to keep you refreshed.
Tickets (including a location map for the gardens) are now available from:
+ Marney's Village Inn, Alma Road, Esher, KT10 8JN
+ Secret Garden Florist, 38 High Street, Thames Ditton, KT7 0SA
+ Crossy's Hardware, 26 Manor Road N, Hinchley Wood, KT10 0SH (cash only)
+ Gill Coates: Tel: 020 8873 3040 Email: gcoates@residents-association.com
+ And on the day - from All Saints Church, Chestnut Avenue, Esher, KT10 8JL
and The Oaks, Orchard Gate, Esher, KT10 8HY (cash only)
Money raised will go towards enhancement projects in the Weston Green area. For example, it has helped fund the lovely curved wooden benches by Milbourne Pond.