Thames Ditton is taking the lead in Elmbridge to eliminate the need for single-use plastic water bottles. As Local Champion for Refill, the Campaign designed to cut plastic waste at source, RA Cllr Tricia W. Bland, who is also Chairman of the Energy & Sustainability Working Group at Elmbridge Borough Council, has signed up eight businesses in the High Street plus Café Noir at Thames Ditton Station as Refill Stations – all now proudly displaying the Refill sticker in their window alerting passers-by to the fact they are welcome to fill up their reusable water bottle with tap water for free. They have also signed up to the Refill app – free to download – enabling everyone to easily locate their nearest Refill Station.
Says Tricia, "It's estimated that the average adult buys more than three plastic water bottles every week, a startling 175 bottles every year, per person. We in Thames Ditton are determined to reduce this figure and our local shops, pubs and cafes are more than happy to support this. Participating businesses include Café Noir, voted Elmbridge Independent Retailer of the Year in 2017 and 2018 at Thames Ditton Station, plus Costa, CycleLink, the George & Dragon, Lunch, Nice Buns bakery and café, Lime Tree deli and café, Organic Nest grocers and the Red Lion."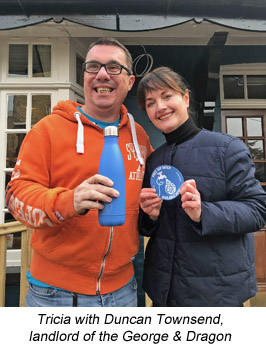 Tricia is working alongside James Watt, Regional Coordinator of City to Sea, the organisation which is the driving force behind the Refill Scheme, founded in 2015 by Natalie Fee. James says, "we are really excited to see Refill Thames Ditton launching and it's great to see they've been leading the way by getting many businesses signed up already. Every time we refill a reusable bottle we save our own money and the planet's resources, and all those individual refills have a positive impact on the environment. It's great to see local businesses supporting the campaign and we're sure that more Refill stickers will be appearing across towns and villages in the borough in the coming weeks."
"The average UK household uses 480 plastic bottles a year but only recycles 270 of them meaning nearly half, 44%, are not put in the recycling. If just one in ten Brits refilled once a week we'd have 340 million fewer plastic bottles a year in circulation."
Says Tricia, "We in Thames Ditton are proud to support the Refill Scheme and help cut plastic bottle usage. Our High Street is known for taking the lead on environmental issues, understanding the necessity to become more sustainable. It was the first in the UK to introduce Boomerang Bags made from donated, reusable fabric to eliminate the need for single-use plastic bags with eight High Street businesses supporting the initiative by stocking the Boomerang Bags, free to shops and customers, including Organic Nest, Secret Garden florist, Stitchery gifts, Nice Buns, Lime Tree deli, 30 Antiques, CycleLink and View Gallery. It is further supported by The Ironing Board and George & Dragon which are the High Street collection points for the fabric to make the bags.
"Boomerang Bags are made by sewing bees across Thames Ditton with a core of volunteers operating out of the Thames Ditton Centre every Monday morning, 10am-12.30pm. They are also being made by Textile students at Hinchley Wood School, as part of an on-going sustainability project, and pupils at Thames Ditton Junior School and members of the Thames Ditton Guide Group are also involved. The Thames Ditton BB makers have also mentored other groups now up and running in Molesey and Claygate and we are talking to various groups elsewhere in the borough including Hersham, Walton and Weybridge.
"The Refill Scheme complements the Boomerang Bag initiative perfectly as both are designed to reduce and eventually eliminate the need for single-use plastic, which so often ends up in landfill or polluting our oceans and it's fantastic to see it being embraced by our community," says Tricia. "I'm also engaging with local councillors in other towns and villages in Elmbridge to become Local Refill Champions and start up Boomerang Bag Clubs in their areas, spreading the message, about the importance of Elmbridge becoming a greener, more sustainable borough."
For more information on Refill and Boomerang Bags, contact Tricia at tdwgra@the-blands.co.uk