Thames Ditton Foundation Coronation Party raises funds for Local Causes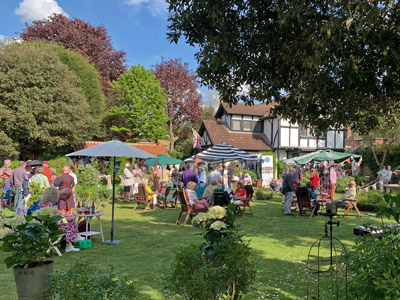 Over 200 local residents attended a Coronation Party in the Garden in the quintessentially English setting of Garden Cottage Thames Ditton on Sunday 7 May. Hosted by Tricia and Will Bland on behalf of the Thames Ditton Foundation (TDF), guests celebrated the Coronation of King Charles III with oodles of refreshing Pimms, prosecco and Thames Ditton Brewers beers, heaps of delicious home made cakes of every recipe imaginable, and an abundance of tea, coffee and refreshing cordials.
There was plenty of entertainment too with renowned pianist Jamie Gray playing a wide repertoire of music from the classical and traditional to hits from the Blitz, jazz and blues to contemporary favourites. The icing on the cake was local soprano, Louise Fuller, leading a rendition of God Save The King at the height of the party.
Apart from friends, neighbours and family gathering together to celebrate and socialise in a glorious, convivial setting, the Coronation Party in the Garden had a serious message too. All profits (over £1,500) from the sales of tickets, cakes and refreshments will go to Thames Ditton Foundation, our local charity which supports and brings people together.
Since Covid and the cost of living crisis, Thames Ditton Foundation is now spearheading support for those living locally who are struggling and in need. They've set up Foodbank collections throughout the village, including Budgens in the High Street, and working with East Elmbridge Foodbank have instigated the Thames Ditton Foundation Fund, offering financial support to those in need living locally.
Thames Ditton Foundation also supports other important village projects such as our beautiful award winning Thames Ditton In Bloom Station garden, Thames Ditton Boomerang Bags, the Thames Ditton Litter Pickers and a whole raft of initiatives championing our High Street, the beating heart of the village. It also works closely with the Thames Ditton Farmers' Market in its support for local charities and projects.
For more details on Thames Ditton Foundation, contact Tricia W. Bland, Trustee, email: tricia@the-blands.co.uk
Or go to: www.thamesdittonfoundation.org
or: @thamesdittonfoundation
or: facebook.com/thamesdittonfoundation