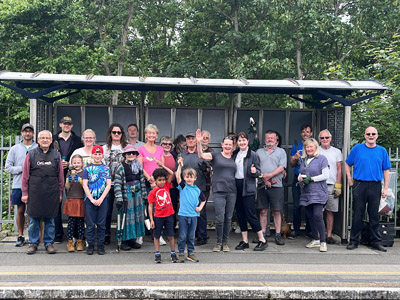 Sun shines for May 2023 Planting Day
at Thames Ditton station
It was glorious sunshine throughout the May Thames Ditton In Bloom planting event at Thames Ditton Station when 25 community volunteers armed with their trowels and gardening gloves met on platforms One and Two to plant out 19 wooden planters made by Men in Sheds (including 17 railing mounted planters and 2 floor standing tubs) plus 14 donated wheelbarrows, creating the new season displays which will bloom throughout the Summer.
Over the coming months, commuters, visitors, and locals will enjoy a riot of colour to cheer up their journeys – pink and purple dahlias and geraniums, orange begonias, yellow gazanias plus miniature trailing petunias and bidens.
The Thames Ditton in Bloom (TDIB) community garden burst into life at Thames Ditton Station in 2016, initially to celebrate Queen Elizabeth's 90th birthday, and since then the initiative has grown and grown. Founded by local resident Tricia W. Bland, the Bee Friendly Trust came on board in 2018 with three extra-large planters filled with bee friendly plants on platform Two and a wildflower meadow was created to the entrance of platform One. More environmentally friendly initiatives came with the installation of three bug hotels and a bat box, made from reclaimed wood by Men in Sheds, and local artists created the fantastic insect artworks which adorn the platform railings overlooking the wildflower meadow.
In 2019 the Thames Ditton in Bloom community garden was awarded a prestigious Level 4 Thriving Award in the RHS Britain In Bloom nationwide competition and in 2021 won SWR's Award for Station Biodiversity.
The Thames Ditton In Bloom community garden wouldn't be possible without the fantastic volunteer team who water, prune and weed year round, maintaining the floral displays in tip top condition. Huge thanks goes to them for their tireless work and enthusiasm. Special thanks must also go to Gary Vickers in the Ticket Office for keeping the water supplies topped up and to Alaa Habbooby in Café Noir for his year round support and to the commuters who buy the freshly baked brownies (made by TDIB Organiser Tricia Bland) on sale at the Station Café and at TD Tennis Club – the proceeds of which go towards the planting.
Thames Ditton In Bloom comes under the auspices of Thames Ditton Foundation, the local charity for our village which supports and brings the community together.
To make a donation towards the planting, or for more information on volunteering,
please email Tricia: tricia@the-blands.co.uk
Or go to: www.thamesdittonfoundation.org
or: @thamesdittonfoundation
or: facebook.com/thamesdittonfoundation