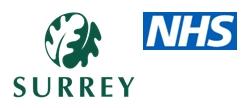 Have your say on health and social care joint commissioning intentions for 2018/19
18 January 2018
Reflecting the closer working happening across Guildford and Waverley, North West Surrey and Surrey Downs Clinical Commissioning Groups (CCGs) and across the wider Surrey Heartlands area, the three CCGs – together with Surrey County Council – have today launched their joint commissioning intentions for 2018/19 and are asking local people and partner organisations to have their say.

The document outlines the joint approach taken to developing a broad range of health and social care plans and priorities and sets out how we will commission, or buy, care that meets the needs of the local population. It also summarises how the CCGs will achieve the NHS' national priorities set out in the Five Year Forward View, including increased access to primary care services and closer integration between health and social care services.

Engagement has already taken place with GP practices, health and social care providers and other partners in order to help shape the commissioning intentions. The Surrey Heartlands CCGs and Surrey County Council are now seeking the views of local people and wider stakeholders on the plans and our shared priorities for next year.

People can comment on the plans through an online survey, which is conveniently segmented so respondents only need comment on areas of interest or relevance to them. All feedback will be analysed and used to inform the final joint commissioning intentions, set to be agreed and published in April 2018.
People can have their say at: https://www.surreysays.co.uk/deputy-ceo/commissioning
The survey closes on 18 February 2018.
Hard copies of the summary document and the survey are available to download and print from the web link above and copies will also be available in community locations. Printed copies can also be requested via email, Freepost, phone or text (see note below).

Matthew Tait, Joint Accountable Officer for the Surrey Heartlands CCGs, said: "It's really important we set the right plans and priorities and this year, for the first time, we have developed joint plans across the three CCGs and across social care, which is a real step forward. We know local people and our other partners can play a crucial role in helping us make sure our plans are meeting the needs of our local population and addressing the right issues and that's why we are asking local people to get involved and have their say."

Acting Chief Executive of Surrey County Council, Julie Fisher, added: "Health and social care affects all of us at one time or another so I would encourage everyone to take a few minutes to comment. We want to know if our plans feel right and importantly if there are any areas people feel we need to do more to address."
For more information please contact the Press Office on 01372 201721.
Printed copies of the summary document and the survey can be requested by calling 01372 201732 or sending an SMS text to 07747 476511.