LOCAL RESIDENTS WELCOME REPRIEVE OF MOLESEY HOSPITAL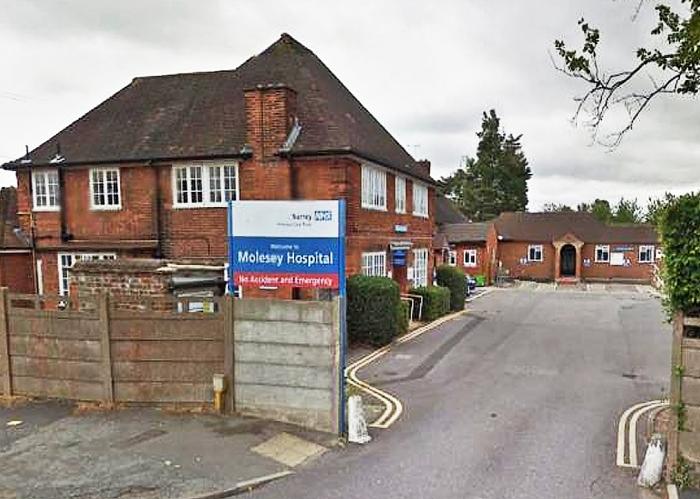 Residents of Molesey, Thames Ditton and the surrounding areas very much welcome today's decision by the Board of Surrey Downs CCG to keep Molesey Hospital open and, together with NHS Property Services, to review the facilities and the site of Molesey Hospital with a view to finding a long term solution to improving patient care in the Molesey area.

The importance of Molesey Hospital to the local community was clearly demonstrated in March when around 200 people attended a meeting, jointly organised by the Residents Associations, at Chandlers Field School. The strong support (both in numbers and strength of feeling) among residents / patients in the East Elmbridge area served by Molesey Hospital was highlighted today as key to the Board's decision.

The neglect of Molesey Hospital by previous NHS administrations (latterly the Primary Care Trust – Surrey PCT) has caused much concern over the years. The CCG's plan to conduct a feasibility study with the intention of finding a long term solution to improving health care facilities in Molesey is a very welcome step forward and follows a meeting between Molesey Councillors Stuart Selleck and Mike Axton, and Cllr Karen Randolph from Thames Ditton with senior management from the CCG (Dr Claire Fuller, Clinical Lead at Surrey Downs CCG, James Blythe, Ralph McCormack, Interim Chief Officer and Dr Jill Evans, Chair of East Elmbridge Locality). At this meeting the Residents' Association Councillors strongly advocated the case for developing Molesey Hospital either on this site or another site in the vicinity.

The CCG must be commended for recognising that this particular ball cannot be kicked down the road yet again. Of course, much now depends on the outcome of the feasibility study and on the willingness of NHS Property Services to assist with finding a viable solution. Given all the concerns about the challenges to the provision of health services in the area, dare we now hope that, at last, we are looking at the potential development of a 21st Century solution to the provision of primary and community hospital health services for East Elmbridge?

Jointly issued by:
Molesey Residents' Association
Thames Ditton & Weston Green Residents' Association
League of Friends of Molesey Hospital
Friends of Thames Ditton Hospital (at Emberbrook).

For further information contact:
Cllr Karen Randolph
Chair, Friends of Thames Ditton Hospital
Tel: 020 8398 5005 or 07947 571019


BACKGROUND

The fabric of Molesey Hospital has been much neglected by previous NHS organisations for more than 30 years. Over the years GP's have developed proposals for the redevelopment of Molesey Hospital (including one led by a current member of the Molesey League of Friends who was at the time a local GP). However each time the relevant NHS organisations chose not to 'bite the bullet'. As a result we now have an outdated building which is costly to maintain and badly in need of upgrading and modernising to bring it in line with present day standards. We very much welcome the more strategic approach of the CCG, in spite of the challenges they face, to look beyond the short term and seek to develop a more sustainable and effective solution.

On March 8th, at Chandlers Field School, Molesey Residents Association together with Thames Ditton & Weston Green Residents Association arranged a meeting between local residents and James Blythe from Surrey Downs CCG to discuss the CCG's proposals in its Community Hospitals Review. Around 200 people attended, making it clear to James Blythe from the CCG how important the inpatient and outpatient services provided by Molesey Hospital are to local residents.

While we have not seen the brief behind the feasibility study, options should clearly include the potential construction of a new purpose built building in the vicinity. Such a venture could be developed as a community health hub, including accommodation for one or more GP surgeries (there are currently two GP surgeries in Molesey: Glenlyn and The Vine), day assessment or treatment beds, growth of outpatient consultants' clinics and outpatient therapy clinics (such as physiotherapy, occupational therapy etc), dental services and associated Social Services and community based services, sharing overheads and providing a more comprehensive and cohesive health service to keep people out of acute hospitals.

A variety of outpatient clinics have already moved into the local community, many of which are provided by consultants and specialists from acute hospitals. Outpatient clinics such as Cardiology, Musculoskeletal, Ultrasound, Neurology, Ophthalmology, Paediatrics, ENT, Dermatology are now being provided at Emberbrook, Thames Ditton as well as in Molesey, and there is clearly scope for more outpatient services to be provided locally if the facilities were available.

One of the main concerns with the suggested move to Cobham Hospital of Molesey's inpatient beds was the associated proposal that outpatient services would be disseminated around the area, with proposed locations (apart from Emberbrook in Thames Ditton) not clearly defined. This would have meant services being further fragmented, adding confusion for both medical practitioners as well as patients.

Various issues, which included concerns around distance and transport (which would have affected patients and staff) meant that there was insufficient evidence to support the case for moving inpatient services to Cobham (which has never had any inpatient beds although these were planned for when the hospital was built). Such a move would have caused great anxiety and concern to local patients, a high proportion of whom are elderly and do not have access to their own transport. It would have left a sizeable population without a local health centre.