Milbourne Pond now has year-round water following the re-profiling work carried out over the past week.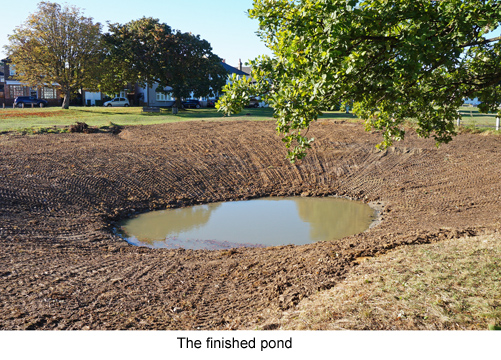 This long-term project has been spearheaded by the Residents' Association's Highways & Drainage Convenor, Andrew Roberts, and actively supported by RA Councillor Tannia Shipley. It began back in 2012 with a hydrogeological study of the area to evaluate the restoration options available. This was then followed by drilling several boreholes around the pond to monitor the water table in the perched aquifer identified in the study (well above the regional aquifer).
From this it was found that the most cost-effective option to restore the pond was to re-profile it to tap directly into the underlying aquifer. Because of the link to underground water, no sealing would be required, nor any water fed in from other sources.
Some more landscaping is still needed, with fine topsoil to be added to smooth out the ground around the pond, and further grass seed over this - to be carried out in the next week or two. UPDATE: The Council have advised that it's better to just let the site 'bed in' naturally as the surface will smooth out over the winter, and allow the surviving seeds and roots in the retained topsoil (and the already-spread grass seed) to rejuvenate the vegetation.
As the pond will now have permanent water, plant and animal wildlife will be able to flourish once again. The water table, and therefore the level of the pond, will however rise and fall with the seasons - the borehole data indicates this will be by 40-50cm. So the pond will be slightly larger by the end of winter when the water table is at its highest.
Funding for this project has come from two sources - C.I.L. (Community Infrastructure Levy money through Elmbridge Borough Council) and a long-standing fund-raising programme with support plus financial contributions from the Thames Ditton and Weston Green Residents' Association.
For further information, contact Cllr Tannia Shipley
email: tshipley@elmbridge.gov.uk Tel. 020 8398 2484