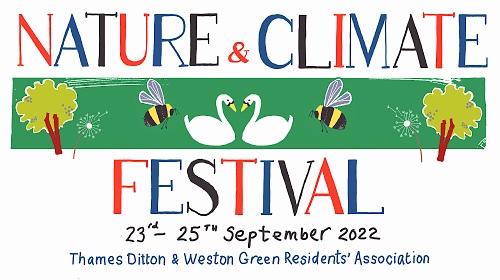 TD&WGRA's Inaugural Nature & Climate Festival
Record temperatures and drought warnings have served to remind us that the window for addressing the crisis in climate and nature is fast closing. Here in our beautiful tranquil community we are particularly alert to problems such as plastic litter. But how does this all tie together? And how can we in live greener, lower-impact lives, but also become more resilient in the face of unprecedented change? Well, prepare to harness your inner Sir David Attenborough as we welcome the Thames Ditton and Weston Green Residents' Association inaugural Nature & Climate Festival, sponsored by Russell-Cooke Solicitors.
Kicking off on the afternoon of Friday 23rd September with a talk on Gardening for Wildlife and stretching over the weekend to our Whale Bath Finale on Sunday 25th, the event will bring a tantalising mix of speakers, authors, workshops and top tips for green living and future-proofing your life in this community.
The Festival Hub for the weekend will be the Thames Ditton Community Centre. Here you will be able to:
• See an exhibition of the best entries to our Nature and Climate Photography competition and vote for your 'People's Choice'.
• Buy a packet of Festival native wildflower seeds to plant a 1m x 1m patch in your garden and make Thames Ditton & Weston Green a patchwork for wildlife! (Sponsored by the Co-op).
• Come and make your pledge on the Pledge Tree. What have you learned and how will you do things differently? (Sponsored by Killik & Co).
Other venues include Dittons Library, Vera Fletcher Hall and the riverside.
The event launches with The Big Green Quiz at the George & Dragon pub on the Friday night and sets the scene for a packed programme.
And don't miss our Saturday night event - a moving performance by children's choir, We Are The Voice, who sang at COP26 earlier this year. "We sing for the climate, oceans, trees and for the species with whom we share our marvellous planet. And we sing for the children's futures." An unmissable end to our Festival's first day.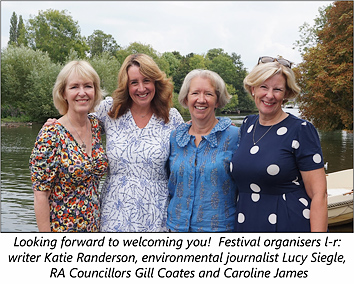 The full programme of events, and ticketing information (where applicable), are now available on our Festival web page - click here to see it.
We hope to see you at the Festival, making a difference for our community and our planet!
* * * *
The TD&WGRA would like to say a big thank you to our sponsors and supporters: Russell-Cooke Solicitors, Elmbridge Borough Council, Killik & Co and the Co-op. And finally, our thanks to Lisa Tolley for her lovely Festival logos.

A message from Russell-Cooke:
As a large local business, we have a responsibility to the community. We commit to: carrying out our business in a sustainable way; minimising our impact on the environment through an awareness of the resources we use, the waste we produce and our carbon emissions; sustaining natural resources where we can. It is our great pleasure to support the Nature and Climate Festival as a forum for us to share what we are doing and what we've learnt, as well as to learn from others.
---