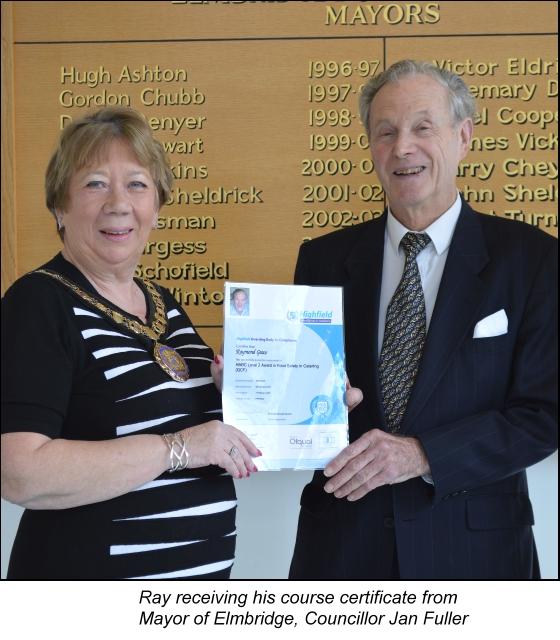 87 year old Elmbridge resident passes Food Hygiene Course with almost perfect score.

An 87 year old Elmbridge resident has become the oldest person so far to pass the Council's Food Hygiene Level 2 training course.

Mr Ray Grace of Thames Ditton volunteers at St Nicholas Church in Thames Ditton on Tuesdays, helping to distribute lunches prepared in the Church kitchen. He wanted to take the qualification in order to help maintain the high standard of food the Church offers to local parishioners.

The day long course took place on the 4th February at the Civic Centre in Esher and involved six hours of tuition followed by a 30 question exam. Mr Grace obtained a 97% score, the highest of the nine delegates taking the course on that day.

Since April 2014, 79 candidates have successfully gained their Food Hygiene qualification, which covers issues such as food contamination, cooking and serving food and food storage.

Councillor Glenn Dearlove, Portfolio Holder for Environment said, "The Council is pleased to be able to offer such a beneficial course 'in-house' drawing on our Officers' wealth of experience in delivering food safety advice across the Borough. The fact the course has such wide appeal and attracts applications from so many different backgrounds is one of the reasons we have 761 businesses rated 5 for food hygiene in Elmbridge."

The next course will take place on 28th April at the Molesey Community Centre. Please contact envhealth@elmbridge.gov.uk if you'd like more information.