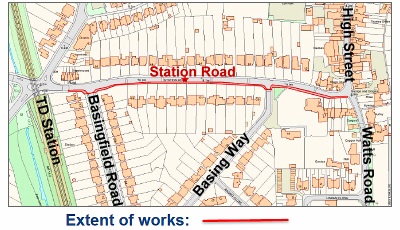 Resurfacing of pavement on the southern side of Station Road, Thames Ditton to start on Monday 16 August, for up to 30 days. Expect delays.
Surrey County Council Highways Department have given advanced warning of the Station Road pavement works:
We will be carrying out reconstruction works on the pavement of Station Road, Thames Ditton from the High Street to Opposite Number 62.
Please note this scheme will include some Saturday working. The expected work hours are weekdays 7:30am – 6pm and 8am – 4pm on Saturdays.
We will make sure you can get to and from your house or business when it is safe to do so. Please talk to a member of our staff on site if you need help – talking to our staff can solve most issues.
Overgrown vegetation
If there are any tree branches, hedges or shrubs from your garden that are hanging or growing over the pavement, please cut them right back to expose the full width of the pavement surface before our works start.
Parking
These works will be carried out in stages, if you would usually park in the works area, we will need to ask you to move your car in the sections where the gang will be working. Please find alternative locations to park, utilising drives and nearby roads as much as possible.
Possible delays in work
Our work is sometimes delayed by bad weather. We will keep you updated on any changes via the advance warning signs and on one.network.