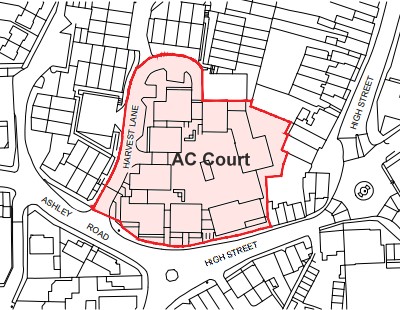 A proposal to convert the AC Court offices in Thames Ditton High Street, KT7 0SR into 51 flats has been submitted to Elmbridge Borough Council

Summary: Under the new Permitted Development rights, a 'Prior Approval Application' for 51 flats in AC Court will be able to largely bypass the usual planning application review by Elmbridge Borough Council. However the RA considers the proposed development to be very poor quality, not least in terms of cramped accommodation, poor light, bleak setting and lack of green-space amenity. Planning officers and councillors have limited direct influence in such applications, but RA councillors recommend that residents who are similarly opposed to the development make their concerns known to the council, and also to our MP, Dominic Raab (details below). A high volume of local opposition may well have greater effect.
From RA Councillor Karen Randolph:
You may have seen a proposal for 51 flats in AC Court, shown in Elmbridge Borough Council's Planning Application web pages (2021/2556). However, this is not a planning application like any other. Under the new Permitted Development (PD) rights brought in by the government, this type of development no longer requires the usual planning application review, and is classed as a 'Prior Approval Application'. As such, councillors and planning officers have no real teeth to influence it and there is no requirement to consult local residents. The applicant essentially only needs to show their development meets Building Regulation requirements.
The Residents' Association has always strongly opposed the conversion of our High Street commercial premises to residential use - seeing it as detrimental to the vitality of our village centre; however as the AC Court offices have been largely empty for some time, it would be difficult to oppose the change of use for that reason only, particularly in the present circumstances where office use generally is far less in demand.
RA councillors are not against the provision of additional housing in our area, but what we are concerned about in this case is the very poor quality of the proposed flats. As it is a Prior Approval Application and not a Planning Application, there are very limited grounds on which it can be refused. The grounds which the planning department can consider are:
- Transport and highways impact
- Contamination risks
- Flooding risks
- Impact of noise from commercial premises
- Provision for adequate natural light
- Whether the size of the proposal is within permitted limits
We have asked the officers to pay particular attention to:
Lack of light. The applicant considers that, although parts of the scheme do not fully comply with BRE (Building Research Establishment) targets, 'overall' future occupants will enjoy good levels of daylight amenity. All occupants should enjoy very good levels of daylight. BRE guidelines should be the minimum standard used to assess whether the light is adequate. Parts of the kitchen/living areas (all are open plan) in some of the flats will have to rely permanently on artificial lighting.

The government's space standards (the government have now made this a requirement even for Prior Approval applications): at least three of the 1-bed flats only just meets the 37 sq m for a one-bed flat with a shower, and several others only slightly exceed this. Several of the larger flats do not appear to meet the space standards for larger homes. These space standards are restricted enough, but by not meeting the minimum normally required, these units will quickly become (as has already been said about other flats developed under PD), the 'slums of the future'.

The outlook from most of these flats is bleak - several look out onto tarmac and parked cars.

There is no public open green space easily accessible in the immediate vicinity.
The government is now placing a lot of emphasis on the importance of 'good design'. Despite the difficulty in establishing what 'good design' is, this is welcomed. But the lack of regulation of those homes which are allowed to be built without having to apply for planning permission clearly means design considerations can be avoided, resulting in poor quality, cramped, claustrophobic flats such as these. Is this really what we want to provide for local residents in the 21st Century? We have just been through a number of lockdowns, and if we've learned anything at all, it is that personal space and accessible amenity space outside is absolutely essential – most of these have inadequate internal space and no external amenity space of any sort – not even a balcony. We need to consider that, in future, people may well be forced to spend a long time in their homes, in some cases with others, including children. No responsible developer should be entertaining the idea of providing poorly designed and inadequate accommodation in any circumstances - it is opportunism that prompts them to exploit the gaps in the planning system without consideration for future occupiers.
The council does not receive any CIL (Community Infrastructure Levy) or Affordable Housing Contribution on Prior Approval developments (unless there is an increase in footprint). So no contribution is required towards the costs involved in maintaining or providing items like children's play equipment, paths, school provision, other infrastructure etc.
This is all being driven by the government's crazy idea that developers with a financial objective will make better judgements than professional planning officers - leading to excessively increased housing numbers and density, by the backdoor.
Although there is little that councillors can do in this situation, I would encourage residents to write to the planning officer¹ - the volume of objections may well help in getting this development rejected. And also to write to our MP, Dominic Raab² [dominic.raab.mp@parliament.uk]. I understand there are a number of MPs who are making quite a bit of noise over Permitted Development - and it is, after all, his government which introduced it and, under Housing Minister Robert Jenrick, is promoting it.

Addresses for Letters:
¹ Planning Services
Elmbridge Borough Council
Civic Centre, High Street,


Esher KT10 9SD

² Rt Hon Dominic Raab MP
House of Commons
London SW1A 0AA