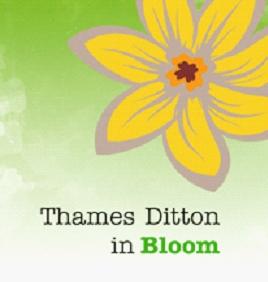 Thames Ditton is fast gaining a reputation for being the 'garden of Elmbridge' for its community planting initiatives.
Thames Ditton In Bloom which launched in April 2016, to time with the Queen's 90th birthday celebrations, saw volunteers planting out Thames Ditton Station by filling 10 wooden planters on railings, three floor standing planters and 10 display wheelbarrows on platforms with a fabulous array of summer flowers.
Visitors and commuters alike were cheered up by the floral displays which were replanted for Autumn/Winter 2016 with Spring bulbs underneath for 2017 flowering, not forgetting Christmas 2016 when the ticket office was decked out by handmade lanterns, stars and other festive finery by the local Thames Ditton Brownies and Guides and pupils of Thames Ditton Junior School which a floor to ceiling Christmas tree taking pride of place.
Due to its on-going success, the Thames Ditton In Bloom initiative on Thames Ditton Station is being extended for summer 2017 guaranteeing to be bolder and brighter than ever with a 'Bollywood' themed planting display inspired by the UK-India Year of Culture being celebrated horticulturally throughout Elmbridge. Here in Thames Ditton, once again the local Men In Sheds team which operates from its own shed in the rear courtyard of the Thames Ditton Centre has handmade the wooden planters for decking the railings, doubling the number from 10 – 20 on platforms one and two. These will be joined by three shiny new green wheelbarrows, increasing the number to thirteen.
All these, including the floor standing planters, were filled with dahlias, geraniums, begonias, gazanias and calibrachoa in vibrant yellow, orange and pinks promising to provide a riot of colour throughout the summer months by the Thames Ditton In Bloom gardening team comprising green fingered residents – all volunteers – from the village.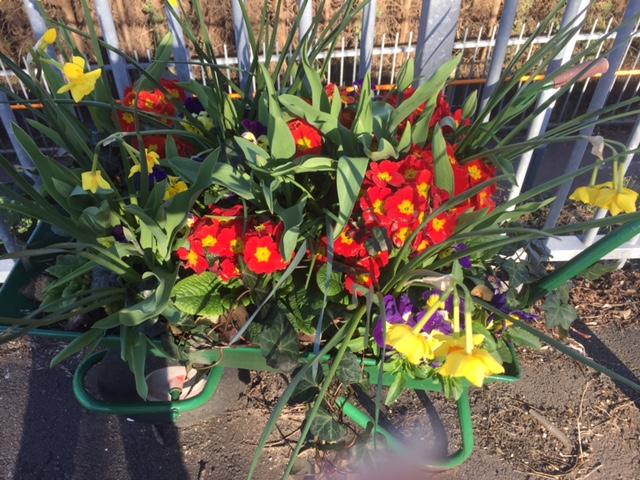 Says Thames Ditton In Bloom organiser and Residents' Association Councillor, Tricia Bland, 'I am thrilled that our local community has so enthusiastically embraced the idea of making Thames Ditton an even more attractive and welcoming place for residents and visitors. This initiative has brought together a whole host of community groups who have happily given their time and enthusiasm to the project including members of our local WI, Men In Sheds, RA members, schools, business groups especially the Set-Up Design and others'.
'Thames Ditton In Bloom also has fantastic support from Elmbridge Borough Council' says Tricia. 'I've worked closely with officers from the Green Spaces team including Laura Richardson and Adam Cheek who even gave up their day off to travel to Thames Ditton and help us plant out. And of course the initiative wouldn't be possible without the on-going support of South West Trains, who even though they will be relinquishing the franchise for running the trains on this line, have continued to back Thames Ditton In Bloom and we hope this collaboration will be maintained when the new operator takes over in August. In particular I'd like to thank Scott Cooper, the local manager of TD Station, Gary Vickers who mans the ticket office along with Al Halbooby in Café Noir, who in addition to dispensing coffee with a smile also helps with the watering!'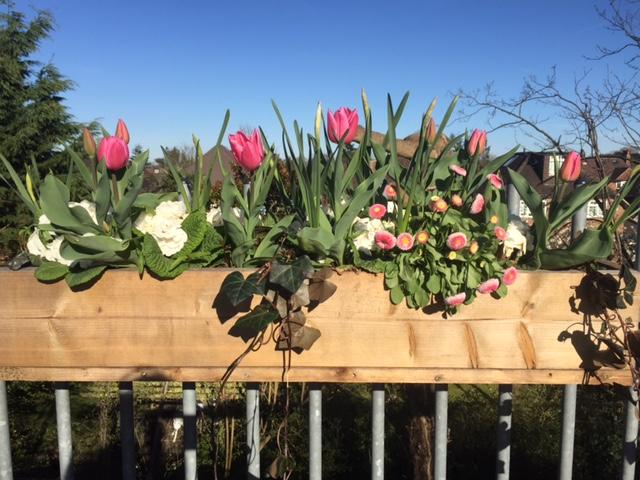 Apart from Tricia, key members of the Thames Ditton In Bloom organising team include residents Andrew Pratt and Nicky Turner, who is in charge of the watering team and she welcomes new volunteers to help keep the floral displays flourishing.
The next phase for Thames Ditton In Bloom will be unveiled shortly. Says Tricia, 'I'm very excited as this summer, for the first time, we will see hanging baskets throughout Thames Ditton High Street which we view as 'phase 2' of the initiative. This will see 20 hanging baskets on lamp posts, businesses and residences. The High Street Hanging Baskets have been possible by a generous donation from the Thames Ditton Farmers' Market which has chosen to help fund the project as part of its pledge to support the High Street and the wider community. Fellow hanging basket supporters include Dominic Barrington-Brown, (the developer behind the prestigious new development of four cottages and three flats ready for occupation from July/August in the High Street on the site originally occupied by the legendary Hawkes Ginger Beer factory) plus the Home of Compassion and Elmbridge In Bloom. The initiative is also being made possible by an ECIF grant (for infrastructure, the one-off installation of the brackets) from Elmbridge Borough Council.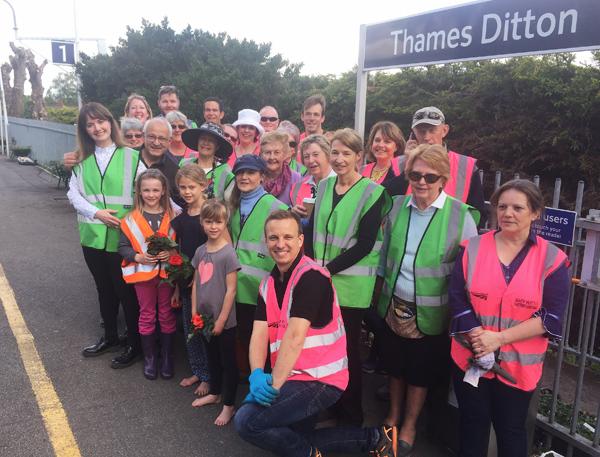 Looking at the broader view of why Thames Ditton is well on its way to being the Garden of Elmbridge, the germination began over 20 years ago, when resident John Lyon had the brilliant idea of planting out all the verges, green spaces, commons and ponds of Thames Ditton and Weston Green, making the villages abundant with daffodils every spring. That's in excess of 20,000 blooms! And since the boundary changes, with the inclusion of areas of East Molesey in the Thames Ditton ward, the bulb planting is being extended further afield, to here too.
'And we have even more ambitious plans', says Tricia. 'Phase 3 of Thames Ditton Bloom will see more varied planting of our green spaces in the village as more and volunteers come on board with their suggestions on how we can be the floral flagship for the Borough. Watch this space!'
For more information on everything Thames Ditton in Bloom and to become a volunteer contact Tricia by email: